A couple of months ago, the very first 'MaiTai Collection in action' collage was born. Since then, I received many more beautiful photos, each one of them making me proud and happy. It is such a special joy to see different items from my collection being worn by women from all over the world.. Thank you for the inspiration, and for sharing your creative and beautiful ways, dear Anna, Boubie, Cecilia, DeLois and Solvei, Julian.F, Holsby, Laura in Georgia, lazuli, Macs and Pussywillow.
In more detail..
Cecilia who not only has one of the most beautiful grey tops I've ever seen, but who ties her outfits and accessories together with fabulous style
noir/ecru and caramel MT horn bracelets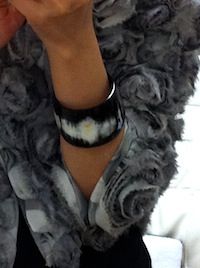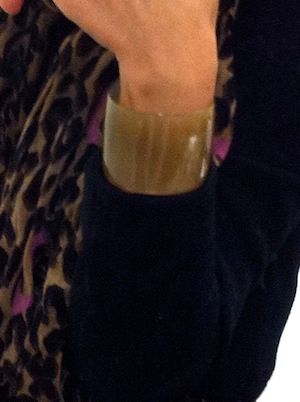 ..and looking equally gorgeous wearing her 'La Femme aux Semelles de Vent' CSGM
MT shawl ring in sunshine honey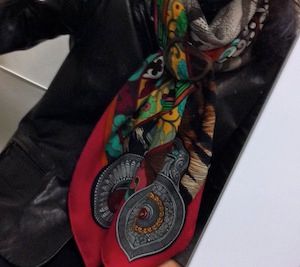 lazuli who always looks so chic and beautiful in neutrals, and who still manages to have the best hair, even when windblown
MT waterfall necklace in black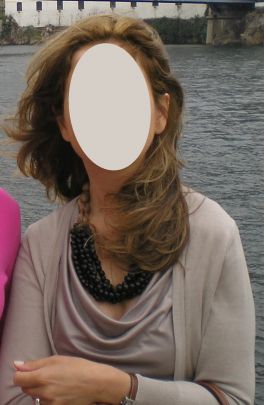 Pussywillow's eye for color and balance is inspiring, and a beautiful example on how the right scarf illuminates the face.
MT shawl ring in
sunshine honey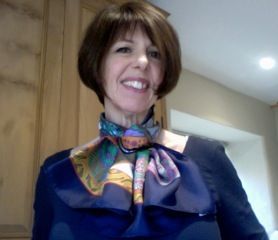 Laura in Georgia, who's still-life skills make the scarf rings appear like jewels, had the wonderful idea to attach a silver chain to a MoP ring and wear it as a pendant. Mille merci :)
moyenne
scarf ring
in light Mother of Pearl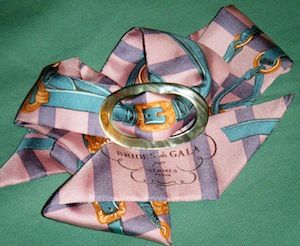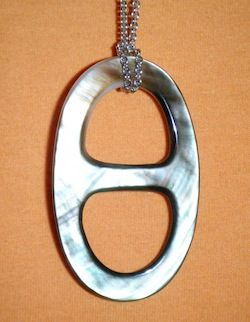 Julian.F's pic made me say out loud 'wow'. Elegant and flawless like a Hitchcock heroine, with scarf tying skills to match.
Tourbillons 90 Carré in a rectangular fold, ends secured in the basic slide with a
shawl ring
in sunshine honey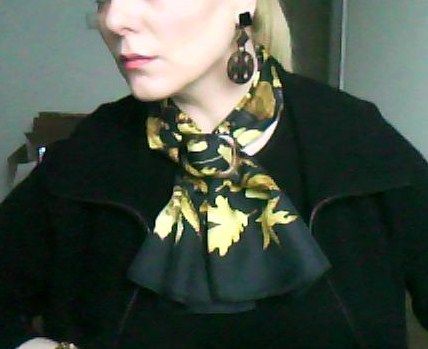 Another fabulous study in neutrals, Boubie's L'Arbre de Vie' 90 Carré with a
SAGA fox fur collar
in
taupe
. A 'greige' lover's dream of casual and easy glamour!
The way Holsby draped her 'Les Ponts de Paris' 90 Carré into wide folds is such a beautiful example on how to give a elegant and soft touch to an all black outfit.
Left in a basic slide, with the scarf wound once a around the neck, and right in a criss-cross knot, tied with
shawl rings
in sunshine honey and black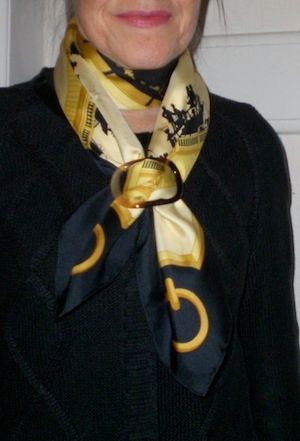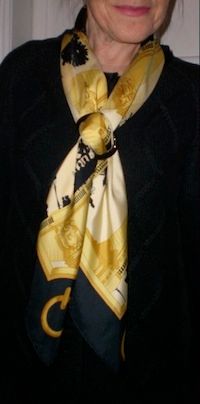 Macs (aka hair-mess) who demonstrates winter chic with her 'Clic Clac' cashmere PM and
SAGA fox fur collar
in
mocca
, and who shares many more ideas on how to go through winter in style on her
blog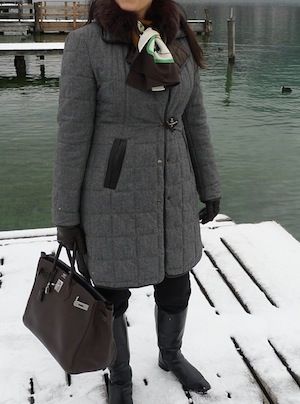 scarf in rectangular fold, in variations of the
two loop method
DeLois who rocks blue like no one else, brings out the details of her 'Les Cheyennes Plissé' with a criss-cross knot and a grande
scarf ring
in black, all perfectly set off with a
horn bracelet
in mushroom/ebene/ecru horn.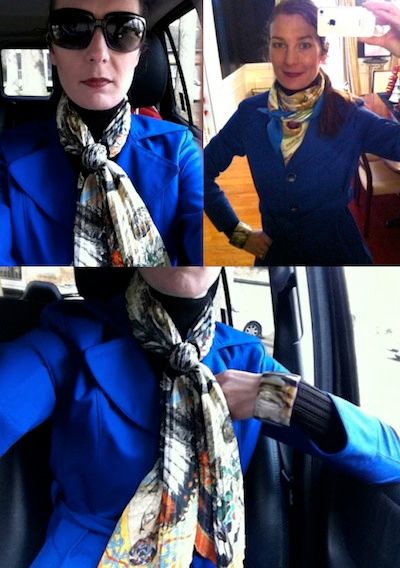 Delois is not only one of the chicest mums, but also a resourceful one... the horn bracelet doubles as a toy for her little princess Solvei, who seems to be readily following into the foot steps of her stylish mum..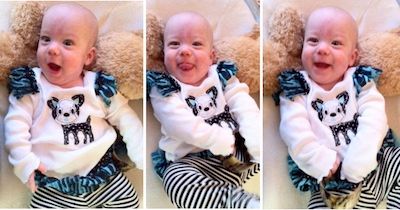 When I see picture of Anna, I always think of Renaissance beauties, Botticelli would have snapped her up to sit for him. While her giraffes ('Les Girafes' CSGM) are tamed by a
shawl ring
in sunshine honey, the beautiful 'Claque au Vent' and 'Szechuan' silks are accompanied by
horn bracelets
in noir/ivoire and maroon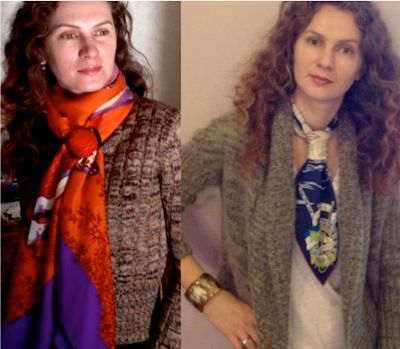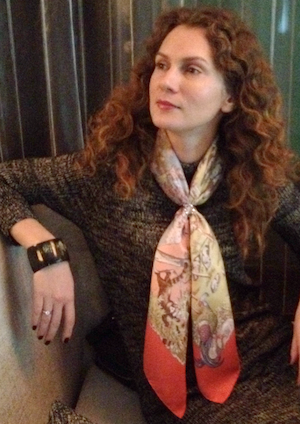 Anyone who would like to participate in the next collage, please email your photos and the ID/nick/name you would like to be credited with to: maitaicollection@orange.fr
Looking forward to hopefully many pics to come!