Style challenges are amongst my favorite posts, they are always inspiring and great fun. Many thanks for bringing one up, my dear Macs!
Choosing warm coloured accessories to tie the brown and yellow together.. chocolate Hermès 'Brides de Gala' dip dye carré, clic clac bracelet in bourgogne and a
MT scarf fur collar
in the new
bourgogne
Carrying the color scheme through to the clothes with dark burgundy jeans and a dark chocolate sweater (dark brown ankle boots for shoes)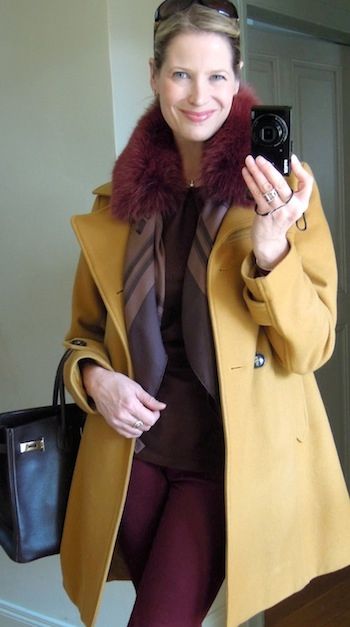 Inspired by the challenge, setting myself a new one.. replacing the brown Birkin with a Bleu de Prusse Bolide,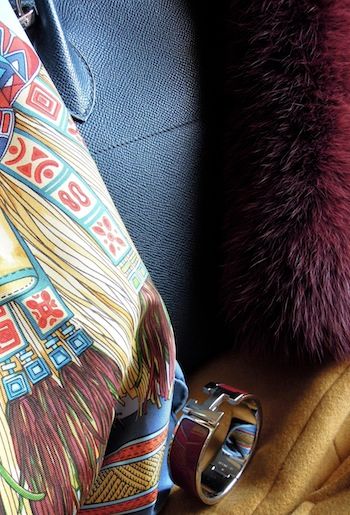 and changing the BdG for a 'Cuirs de désert' 90 carré
In a further variation, replacing the chocolate sweater with a green top. Green is usually a difficult color on me, but when I saw this at Zara a couple of months ago, I fell in love straight away (it has beautifully structured shoulders). A dark bottle green seems to turn almost into a neutral when combined with a pop of (muted) color, looking forward to warmer weather and further experiments!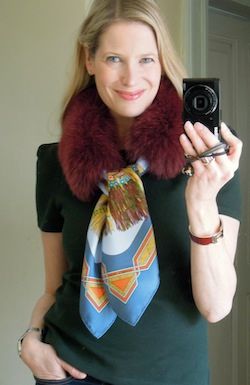 I would love to hear more style challenges/requests, and if you have one, please write in the comment section below, or email me at maitaicollection@orange.fr. Merci in advance!
You might also like: