Spring always comes with surprises, sometimes it feels as if summer has come early, and then it's winter all over again. But most importantly, it fills the air with exuberance... the daily display of new blossoms, fresh green leaves, busy bees and butterflies puts a light and happy spring into my step, and makes me reach for my most colorful scarves. Wearing 'Fleurs d'Indiennes' again (tied into a sash in the
previous post
), but today I felt like bringing out the design and colors..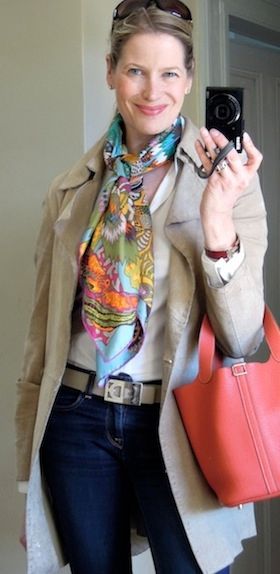 Capsule wardrobe: jeans, white shirt and beige suede jacket
Accessories: Hermès 'Fleurs d'Indiennes' 90 Carré, clic-clac H enamel bracelet in bourgogne, Muse belt buckle with gris-tourterelle belt strap in togo, and Picotin in sanguine.
Shoes: two tone mocassins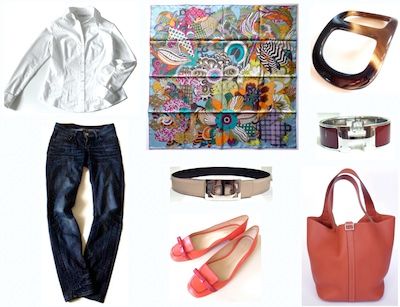 Have I mentioned how much I love these shoes?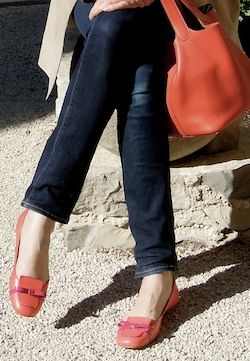 For us, this has been the last day of Spring for a little while, as we are heading towards winter again tomorrow. DS's Easter school holidays hardly ever coincide with Easter, but they are in tune with the end of this year's skiing season! So bye-bye to spring colors for now, and hello to white and (hopefully) blue. Looking forward to seeing you all again towards the end of April.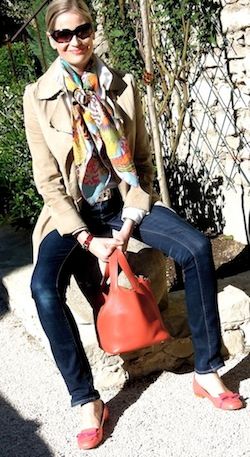 PS. I am hopelessly behind on comments and emails, please forgive me. Will try my best to catch up before coming back x