When walking past this statue, I thought how similar the drapes of the fabric looked to the horse mane pattern of the Quadrige scarf I was wearing.
With DS going back to school next week, it was about time to get him into town to buy a few summer shorts and t-shirts. Shopping is not one of his favorite activities, and so were are all glad that it's done.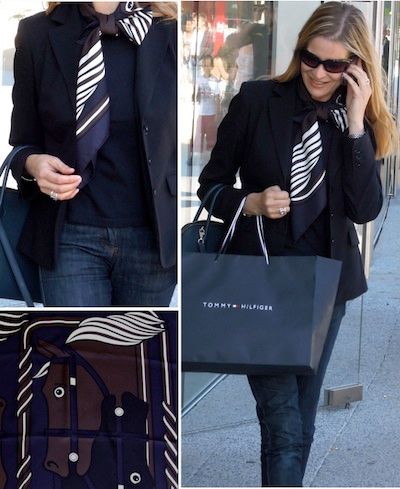 Capsule pieces: blue jeans, navy t-shirt and navy blazer
Shoes: Converse sneakers
Accessories: Hermès 'Quadrige' 90 Carré, chaine d'ancre enamel bangle and Bleu de Prusse Bolide
Scarf tying method: Scarf folded in the basic bias fold, placed around the neck and tied in a bow, with one loop pulled out (see photos below)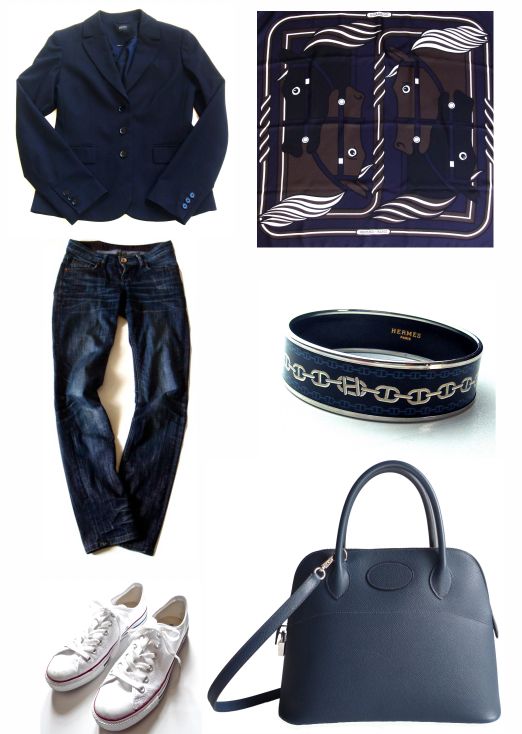 The Quadrige is a perfect example of how important it is to choose a scarf with the basic bias fold (marked in pink) in mind. Even though it appears predominantly dark, the light mane of the brown horse illuminates the face as soon as the scarf is placed around one's neck
(the opaque parts get folded away, or disappear in the knot/behind the neck)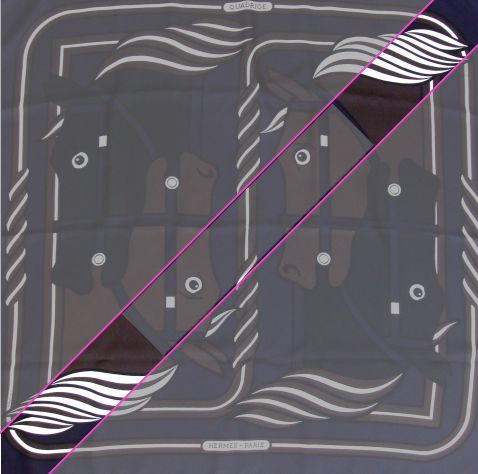 I remember that I wasn't drawn to it when I saw it for the first time at my local Hermès boutique, it appeared so somber. Folded into a small rectangle nestling in the scarf counter, there was no way to imagine how illuminating and light it would be when worn,
especially as the light part of the pattern was further hidden by the overlapping way the scarves are displayed.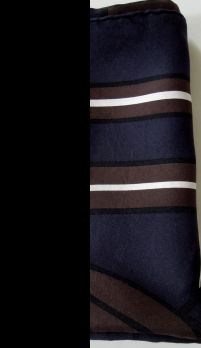 So very glad I eventually asked to see it unfolded (although it was some time later), it has since become one of favorite and my most loved scarves.
How-to for the simple bow knot: Fold your scarf in the basic bias, then place around your neck. Tie a bow (in the same way you tie your show laces). Pull one of the loops out, et voilà.
Featured scarf: Coupons Indiens
Wishing everyone a most wonderful weekend! x