It's Sunday again! Which
normalement
means another LBS episode, but since summer is here, I thought it might be fun to start a
L
ittle
B
lack
D
ress series and alternate the episodes with the Little Black Suit ones. The LBD allows for so many different ways to knot scarves, such as shoulder wraps, capes and bows ~ hope you'll enjoy!
So here we go with our first one, a shoulder wrap tied asymmetrically and secured with a Gavroche ring. Instead of using a scarf ring, the ends can also be tied together in a small double knot.
Next Sunday will feature again a Little Black Suit episode!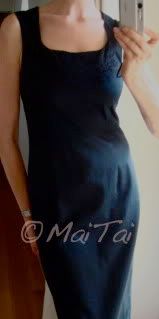 featured scarf La

Presentation

de

Chevaux