As some of you already know, I adore Aline Honoré's scarf designs, the La Femme aux Semelles de Vent, Cent Plis de Miao and Coupons Indiens are amongst my favorites. When seeing the first preview of her Fleurs d'Indiennes for this SS2011 collection, I very much hoped one of it's many colour ways would suit me. Rule #2
(Be in love with the design)
ticked! Having tried almost all of them over the last few weeks, and with the most likely contenders not quite working out, I was beginning to loose faith. With no other CW left to try, and in the spirit of rule #5 (
be open and flexible),
I thought to check the vibrant CW07 'just for fun', but was somewhat doubtful how it would go with my complexion and wardrobe...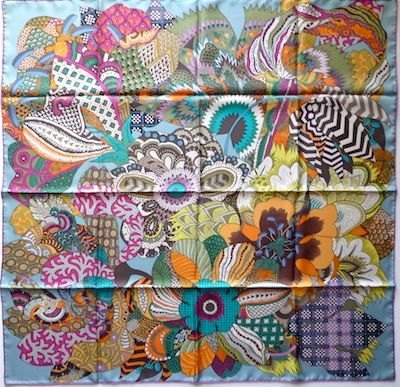 Like with any scarf that is not symmetrical, the two possible axis of folding the scarf into the basic bias fold...
...result in two very different looks..
left: blue axis left, right: pink axis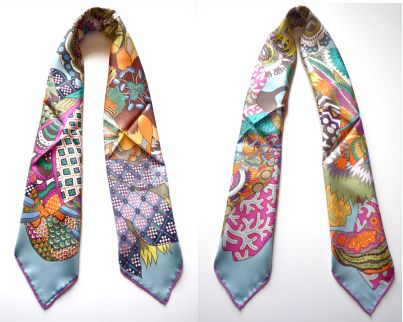 ..I love both ways, so rule # 3
(The design also needs to work for you when the scarf is knotted
) got ticked too!
left: blue axis left, right: pink axis. Both tied in a criss-cross knot with a grande scarf ring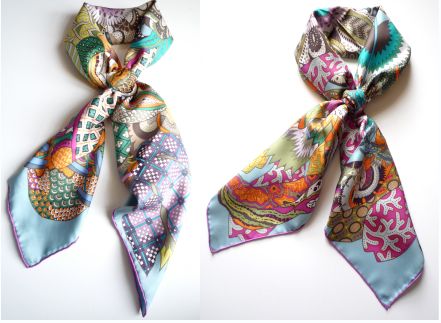 When trying it on, it was a real surprise that it did not overpower me, instead it was a definite
'high LOL moment'
(thank you for the great expression, dear gracekelly)! Rule # 1 (
The scarf should flatter you and illuminate your face)
ticked !
The remaining question was, if I would find anything in my wardrobe to team it up with..
# 4 -
Be in harmony with your wardrobe/accessories
Looking closely, there is an immense array of neutral colours in the design, and wonderfully enough, it turned out there is hardly any colour in my wardrobe that couldn't be matched to the FI, it works beautifully in combination with khaki, grey, beige, 'greige', taupe, chocolate, white, teal, plum, rose, steel grey... and if I'd had orange, safffran, yellow, red, turqouise or green clothes, it would go with those too.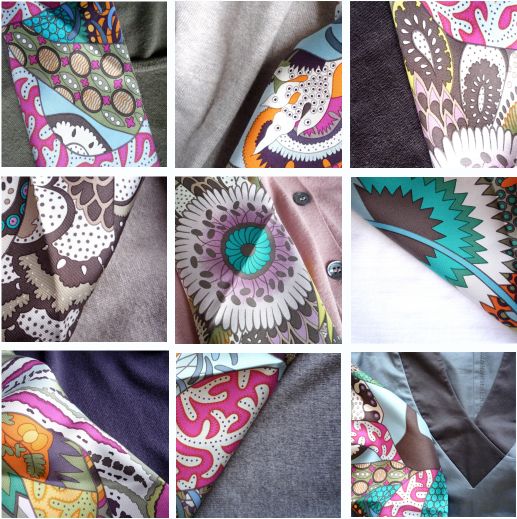 #6 Never buy anything that does not feel 100% right!
- ticked!
The story behind the design, from the 'Carré Stories SS2011' booklet: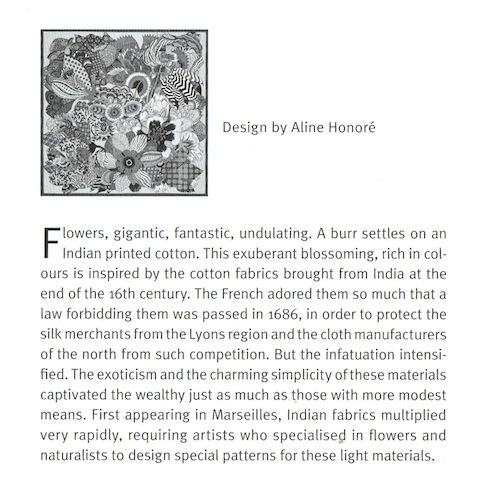 Coming next: playtime with the
Fleurs d'Indiennes and checking it against rule #1
(t
he scarf should flatter you and illuminate your face)
Hope you'll all agree ;-)