I have been asked many times how I store my scarves, so here we are.

The most important thing for me is to see and feel my treasures, and to have them easy at hand, so I store them in an open way. I keep them in their boxes for a neat and tidy look (it stops them from sliding around) but with the lid tucked under, so they can breathe.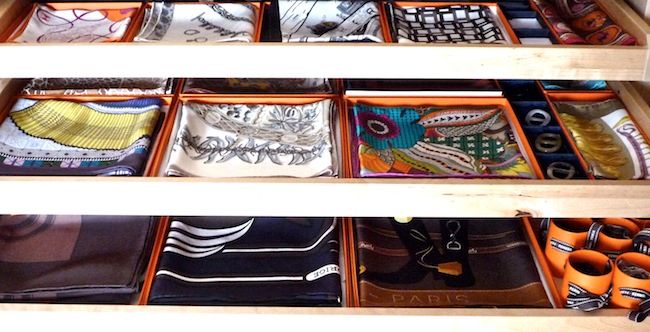 The key for this storage solution is to find deep, wide and shallow drawers, in the esprit of artist's storage cabinets. The shallower the drawer, the more economical, a shallow drawer allows storing up to three times more scarves than a conventional one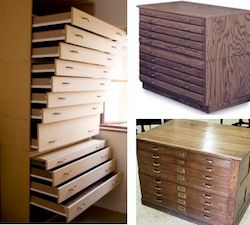 An artist's storage would make a fabulous centrepiece in a dressing room, but I have my drawers fitted into a cabinet with shelves, where I also store my bags, scarf catalogues, books and boxes. Years ago, I found an excellent system at
IKEA
, which had cabinets with flexible shelves and perfect sized drawers, measuring 90 x 53 x 6 cm (35.43" x 20.86" x 2.36")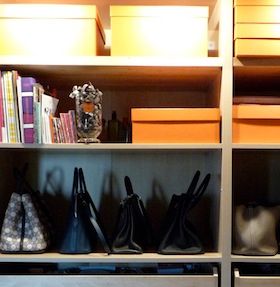 Unfortunately, the shallow drawer has been discontinued (their current one is almost three times the height), so now I have them made by a carpenter.
Here is one of the drawers containing smaller silks (holding eight 70 Carrés, plus five Gavroches):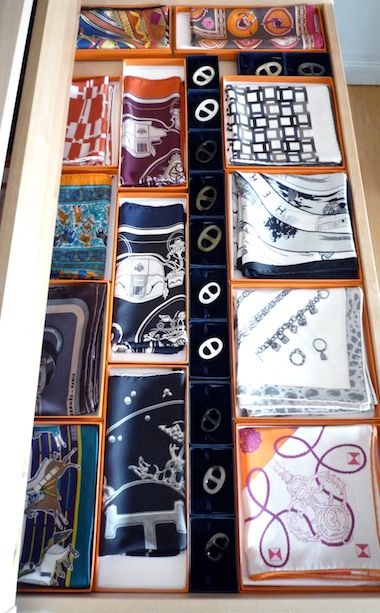 and one with 90 Carrés (six per drawer, plus two Gavroches)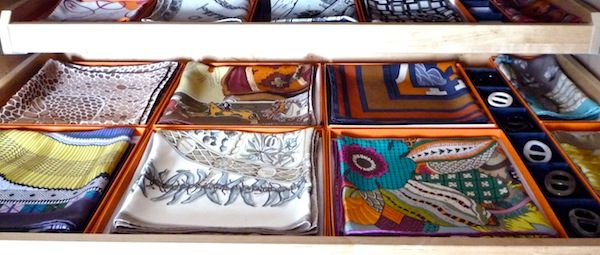 If space gets tight, one can add a couple more scarves as a second layer, while maintaining a clear view to all that is underneath...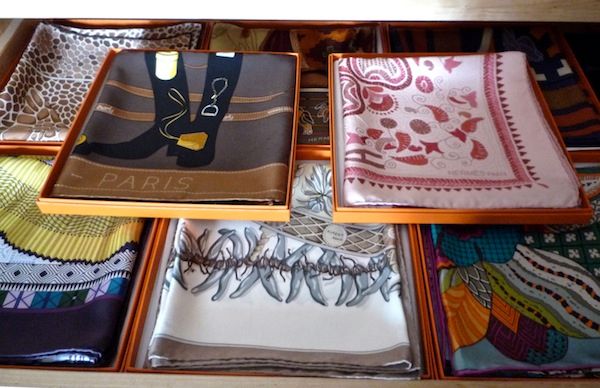 or even add three, making it nine 90 Carrés per drawer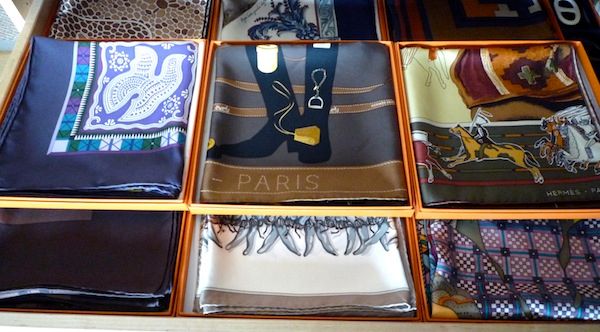 Below three drawers fully stacked, all layered double and holding almost 50 scarves, while taking only 30 cm (11.81") of cupboard height..
1st drawer: twelve 70 Carrés + five Gavroches = 17 scarves
2nd drawer: nine 90 Carrés + two Gavroches = 11 scarves
3rd drawer: nine 90 Carrés + one Plissé + nine Twillys = 19 scarves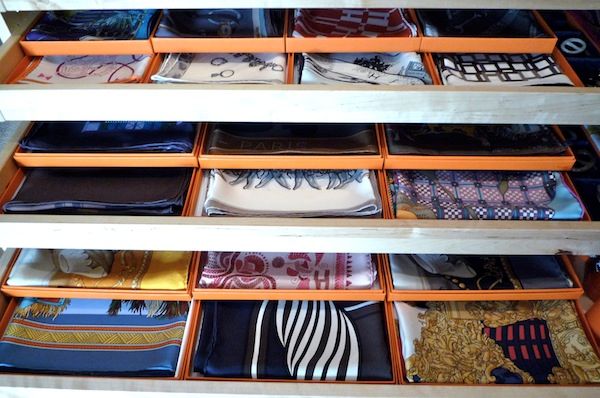 An open storage solution can just as easily be achieved without special drawers, at the same time economising on space in an even more efficient way. Take your scarf out of it's box..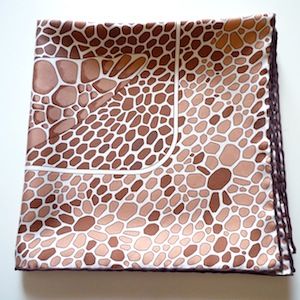 fold it once over ..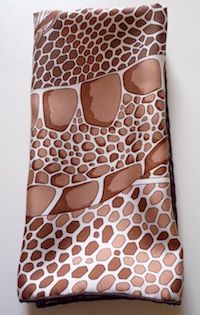 and arrange in a loose overlapping way, just like they do in the boutiques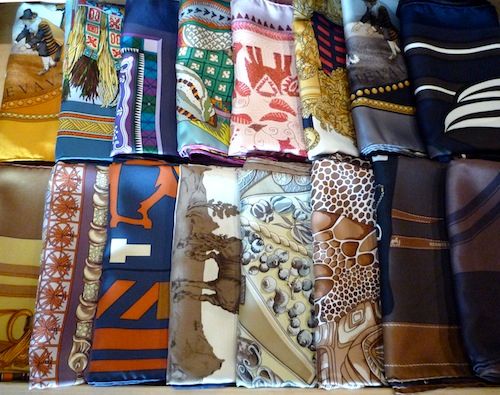 My storage luxury is H's drawer lining paper, delicately perfumed with the 'vetiver' scent from the Hermesessence line. When I bought it for the first time, I actually left the store empty handed. I was abroad, and spotted it decorated in a tall vase. Without checking the price (something I normally always do, but thought how expensive could they possibly be!), I asked for a box and proceeded to the caisse, where I was presented with a bill for 300 EUR. At this point I very much regretted not having checked the price first, as there was no way I 'd justify spending more than the equivalent of a 90 Carré for five sheets of scented paper. The SA's attempts to explain the virtues of the sheets fell on deaf ears, I apologised giving the reason I could not take them after all, and left the store a little embarrassed. Half a year later, abroad again but in a different place, I spotted the very same box of lining papers in the window of the local H, and was very happy to see a price tag of 30 EUR. It turned out to be the correct price, but still felt like the best bargain ever.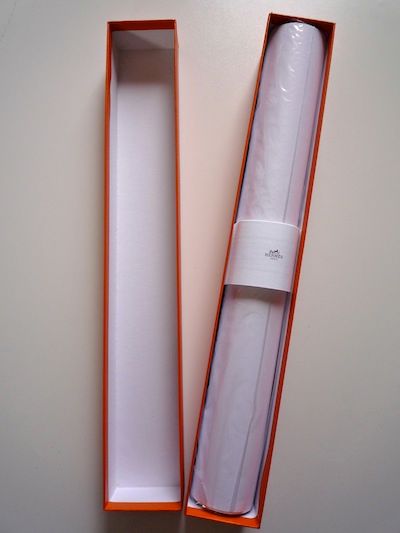 The scent is incredible long lasting and discreet, and each sheet is embossed with H's clou de selle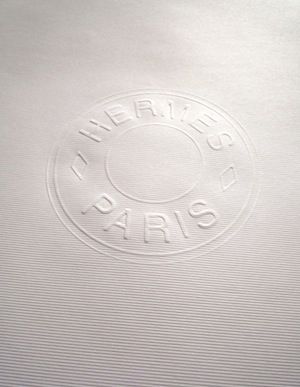 A couple of years later I revisited the first boutique (glad not having bought the paper there), and the sweet SA was hugely relieved to see me again, and apologised for the faux pas in style, with a glass of champagne. A story both of us will always remember!