The partial refurbishment of FSH is not finished yet, and as before, the main corner window, and those along the Rue Bossy d'Anglas were still boarded up. The two big windows on the Rue Faubourg St.Honoré were decorated in orange, lemon and lime, a very joyous and bright spring time display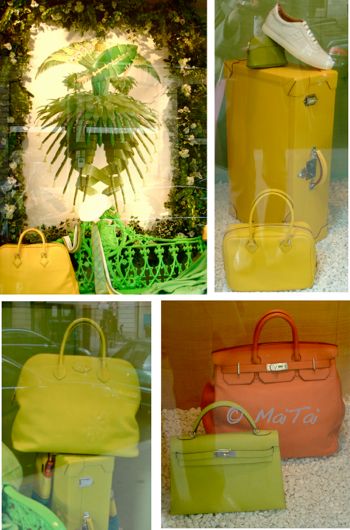 The orange Kelly (collage below, top right photo) had discreet croc trimmings, and was absolutely stunning. Inside the store, orange was the predominating color, there were orange Lindys, Paris Bombays, Jypsieres, SO Kellys, Plumes and Victorias. Also quite a few yellow (soleil), white and rouge vif and rouge garance ones. The most spectacular bag on display was a 35 sellier black shiny croc Kelly with diamond studded hardware.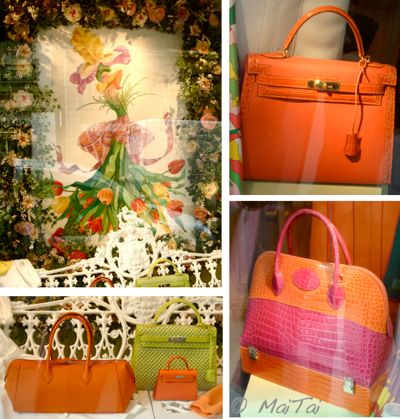 On the rooftop of the building, the 'Lilanga' Carrés from three weeks ago have been replaced by the 'Mosaïque au 24'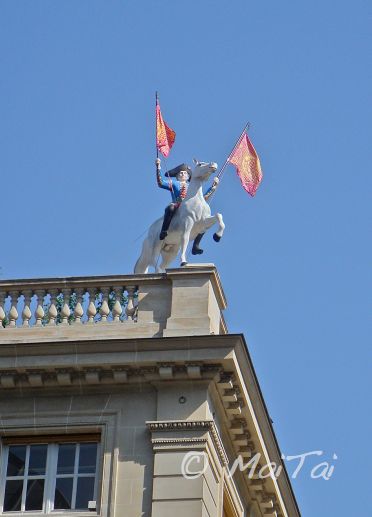 Update on Autumn/Winter 2010 colors. The swatches were not available yet, but will be in the store by July/August. I asked about rubis, and apparently there is NO pink in it. It was described to me as a warm and rich color, a lighter version of bordeaux. Sounds intruiging, it could be just
the
perfect red!