Summery purple & yellow
The natural fiber ribbon display chez
Ultramod's,
is not only a feast for the eyes, but also a great source of inspiration. Seeing so many colors together, allows you to try out endless color combinations in a fun and easy way..
.. but can also remind you of combinations previously loved. While zooming in on the purple, lilac, yellow and gold
... I remembered an outfit I wore in early spring (to see the full post, please click on the thumbnail below)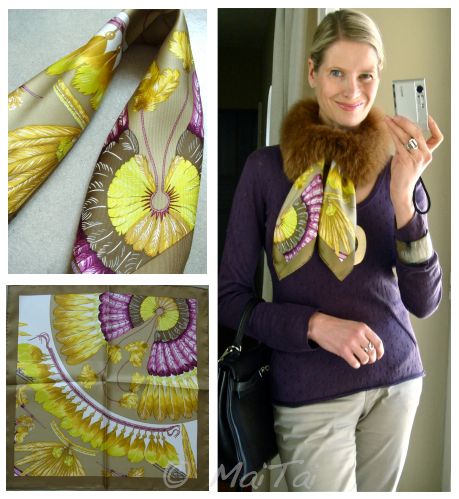 .. and felt like adapting it for summer, by changing the beige/grey cotton pants for a crisp pair of white jeans, and knotting the Gavroche into a cool and breezy cowboy knot. Shoes and the rest of the accessories in a cool, dark brown, to frame the look and tie all elements together.
Capsules: purple sweater, white jeans
Shoes: suede loafers
Inspiration: ribbon counter at
Ultramod's
Accessories: Brazil II Gavroche in a cowboy knot, Kelly 32 in Ebene, Horn cuff MT (to be launched soon), Silver rings as usual
Scarf tying method: Fold scarf into a triangle, place around neck 'bib style, knot both ends into a double knot behind your neck.