As many of you may know, I very much enjoy exchanges and taking requests, and so I was really pleased when I got an email a couple of days ago with a style challenge.
The question was how to accessorise a navy blazer to get a casual, not business like look.
I love wearing blue, and it was a fun process to put together an outfit. For the basics, I chose a tank top with a deep neckline, and a 3/4 length pair of jeans. Both are capsule pieces, and their cut and material very casual, hereby already avoiding an association with a business outfit or working uniform.

Next the accessories. While a silk scarf is a perfect companion to a business look, it can just as easily go casual. Here the bright and happy colours, in combination with a more flamboyant version of the criss-cross knot, give the scarf a nonchalant appeal. The bracelet adds another little splash of colour, while the look of the necklace worn in a single long strand emphasises further the overall casual look.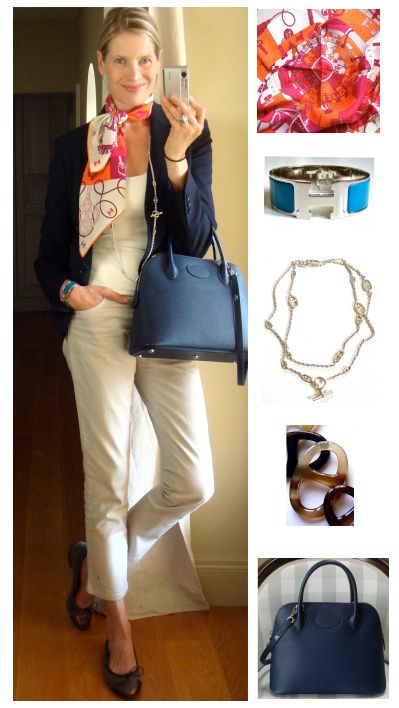 Style challenge: Navy blazer
Capsule pieces: beige 3/4 length jeans and cream tank top
Shoes: two-toned ballet flats
Accessories: Tours de Clés 70 Carré, Farandole necklace, BdP Bolide, turquoise clic-clac bracelet
Scarf ring:
MT Collection
, moyenne honey
Scarf tying method: Criss cross knot (click
here
for a how-to), one end left longer than the other
I enjoyed this so much that I had a hard time choosing just one look, and thought it would be fun to get a few more navy blazer style sheets together over time.
It could even be the start of a new series, taking on different style challenges and then finding a few different looks for each. What do you think, ladies? If you have any challenges on your mind, I would love to hear them. You could tell me about them in the comments box below, or drop me an email at: maitaicollection@orange.fr