A couple of weeks ago, I received an email by my friend gracekelly, with a fabulous idea on how to maximize the use of Gavroches, to be shared with the readers of this blog. I thought this would be a wonderful opportunity to introduce her as my first guest author, and graciously she accepted the invitation:
Dearest MaiTai,



Thanks so much for giving me the inspiration to play with my scarves, in particular, the pochette/gavroche. I have always like them to hang on my handbag, and now with your small scarf ring, and the fur collars, they have found a new occupation! It occurred to me that I could extend their usefulness even more by combining them. I had two in the same pattern, Brazil, and that was my start. I then tried matching colorways and those two were...... Another combo was just picking out a color from one and trying it with another pattern. Trial and error all the way.
[All pictures © by gracekelly]
'La tour Eiffel s'envole' and 'La pluie d'etincelles'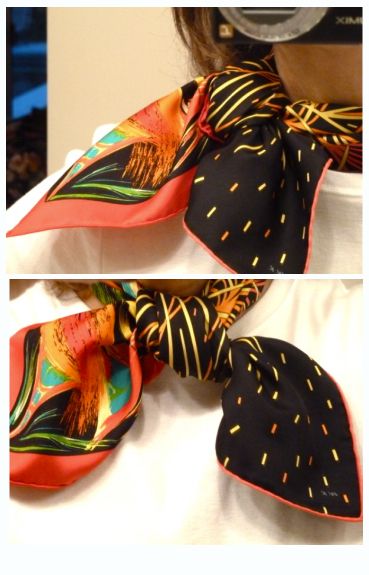 'Crayons' and 'Tohu Bohu'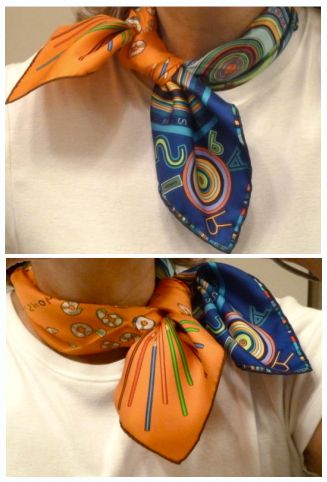 'Bolduc' and
'La tour Eiffel s'envole'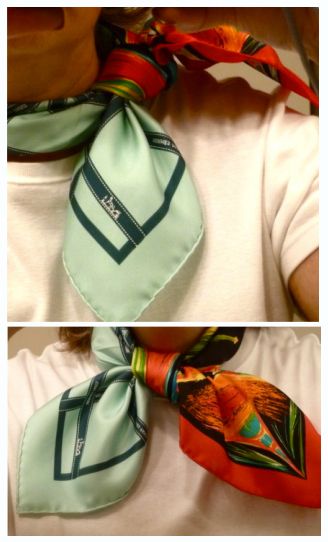 Added by MaiTai:
Thank you so much, my dear gracekelly, I love this idea and am honored that you agreed to be my first guest author. It is truly amazing how much mileage this method gives to Gavroches, and I admire how harmoniously you have combined the different designs and colors. The outcome is fabulous! Mille merci xx
How-to: Fold two Gavroches in the basic bias fold, and tie them together at one end with a small knot or scarf ring. From there, experiment with different knots and ways to tie.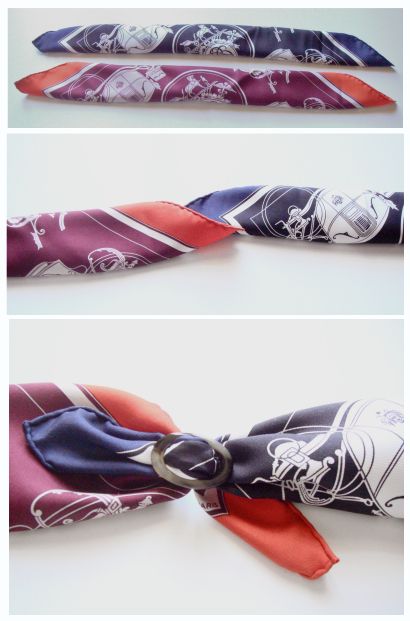 Place the resulting long stripe on your neck, with the ends hanging down your front. From there, you can try a variety of knots, with or without scarf rings.