A couple of days ago I went to Paris, but nearly had to cancel the trip, as we've had unbelievable snow storms the night before, and the roads to the train station were treacherous.
The first pic shows the view out of the high speed train. It's
not
a black&white photo, this is just how bleak it was. Paris however, had blue skies and sunshine, below a photo of the
Tuileries
gardens with the Louvre in the background. Normally our climates are reversed, and I was glad that this day was an exception.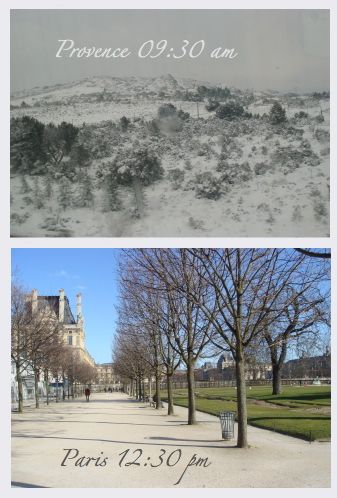 The tents of the fashion week in the
Jardins
de
Tuileries
, alongside the Rue
Rivoli
.
It's just a 10min walk from the tents to

Hermès
'
FSH
, and as always I was looking forward to seeing which
Carrés
the horseman on the rooftop would be heralding. This time it was
Cliquetis
, a SS2010 reissue of the 1972 design by Julia Abadie. Half the store was closed off for refurbishment..
and only a few windows were dressed. Here
a

Birkin
, Plume,
Bolide

,

Medor

clutch and several
Kellys
, all in crocodile skins in beautiful shades of pink, red, green and orange, repeating the jewel tones of the magnificent
mosaïque
that made the
centerpiece
of the display.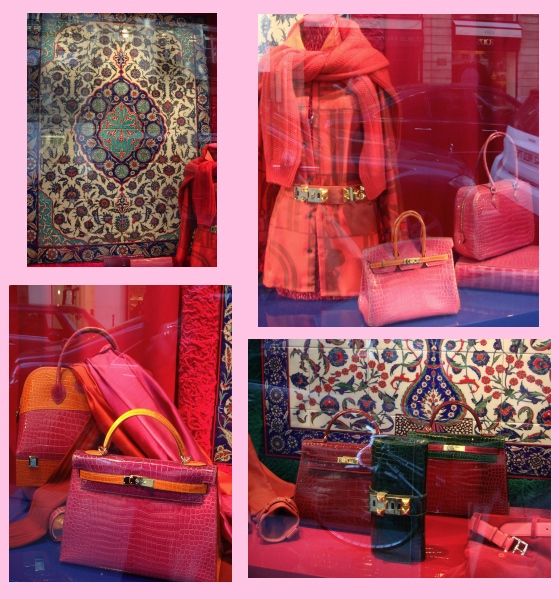 The rest of the windows were boarded up with panels of drawings by Philippe Dumas, depicting the founding member and directors of the
Hermès
/Dumas family, and views from the inside of the store. I love Philippe Dumas' illustrations, and it was a real treat to see his work blown up to life size, wrapping the storefront of
FSH
.
Ended the day by having drinks with friends at the
Hotel

Costes
, located on the Rue St.
Honoré
, just off the Place
Vendôme

.
It was a wonderful end to a fun and fabulous day.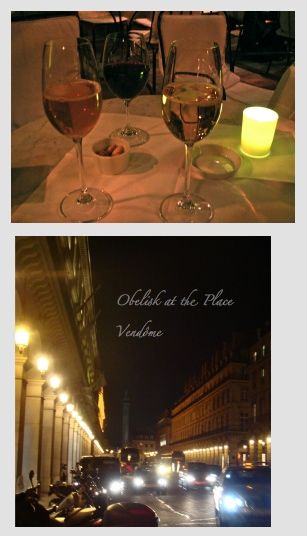 One last glance at the Place
de
Vendôme
, before heading back to the
train station
.