As some of you might know already, one of my main shopping mantras is
'try before you buy'.
This concept it difficult, if not impossible, to keep up when deciding on an
Hermès
bag, as the selection in the boutiques is limited in terms of sizes, leathers and colors per bag type. Of course there are leather swatches and small leather goods available, so that one can see how certain colors come out in certain leathers, but it requires a real stretch of imagination to
envisage
the look of a medium to big sized bag just by staring at a coin purse. Photos can only help to a certain extent, they don't allow you to see how a size or shape suits your body, how the leather feels and smells, the harmony/disharmony of the shade reacting with your coloring, and if the bag feels right or not. The only thing I knew for certain, was that I wanted a
Bolide
. For almost a year, I've been trying to get the specifics right, and finally the last pieces of the puzzle came together when I went to
FSH
last Monday.
Unlike the last time (the fashion week must have depleted stock) there was a wonderful and varied selection of
Bolides
in stock. Here a list of the ones I tried on, and in bold
print
those, I took pics of
31
mou
in
Bougainvillia
Clemence
31

mou

in

Bleu

de

Prusse

Clemence
31
mou
in Gris
Tourterelle
31
rigide
in
Barenia
/
Toile
31

rigide

in

Bleu

Abyss Epsom
31
rigide
in Cognac Ostrich
37
rigide
in
Barenia
/
Toile
37

mou

in

Poussière

Clemence
37
mou
in Black Clemence
37
mou
in
Bougainvillia
Clemence
37

mou

in

Brique

Clemence
37
mou
in
Etoupe
Clemence
37
mou
in Orange Clemence
First one out, was the 37cm
rigide
. It was just too big on me. The same size in
mou
appeared a lot smaller, due to it's slouch.
Left, 31
rigide
in
Bleu
Abyss Epsom, right 31
mou
in
Bleu
de
Prusse
Clemence. Isn't it amazing how much smaller the
mou
version looks? Behind a
Poussière
Victoria for color reference
Next, a 35
mou
Brique
in Clemence. This is not my first attempt at this beautiful warm/
browney
-
orangey
shade, I have fallen in love with it when trying on a
brique
Togo Plume last year. However, I was not looking for a Plume at the time, but for a
Birkin
.. but in the end, the
Birkin
did not turn out in this color the way I had hoped for... However, the lighter and tapered shape of a
Bolide
suits this color beautifully. Also it comes out less brown and more
orangey
/red in Clemence, another plus. My outfit of the day is a bit unfair to this
Bolide
, it would have looked very different had I dressed in warm colors instead.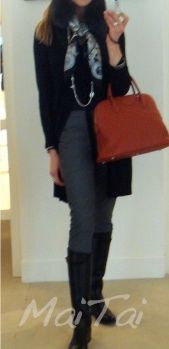 In contrast, the same size, shape and leather, only in a summery neutral,
Poussière
(french for 'dust'). It is a
lighter
color than
Etoupe
, with a slight touch of khaki. Again, the wrong outfit, this would be gorgeous with white jeans, and olive, sage or khaki colored tops and sandals.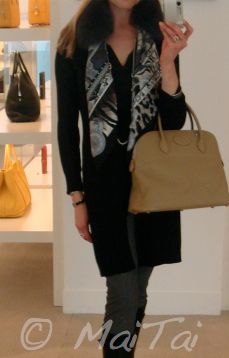 Next, a 31
mou
in
Bleu
de
Prusse
. Quite honestly, a blue bag has not been on top of my list, but this one is gorgeous. It has a little shade of purple in it, which makes in luminous and interesting. The 31 is considerably smaller than the 37, but amazingly, it holds about as much as a 32 Kelly.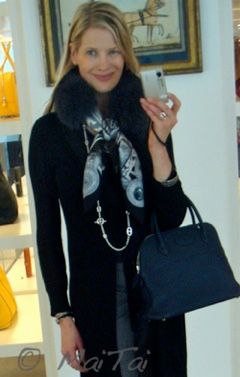 Same size as above, only in the
rigid
shape (Epsom leather) and in a different shade of blue, called
Bleu
Abysse
(the name of this color reminds me of the film 'Le Grand
Bleu
', a beautiful film about deep sea diving). The rigid shape truly brings out the fabulous shape of the
Bolide

, a great and timeless look (the design of the

Bolide

dates back to the 1920')
The blue was beautiful too, and lighter than the
Bleu
de
Prusse
.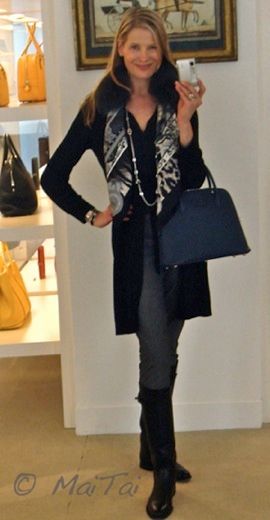 Would love to hear which one your favorite is!
Before leaving
FSH
, I snapped a picture of the horseman, the
Cliquetis
from a couple of weeks ago have been replaced by the
Lilanga
scarf.