A while ago, someone asked me what inspires me when I get dressed in the morning.
Apart from the obvious factors (occasion and temperature), I mostly dress in accordance with the outside light. On overcast days, I'd reach for darker tones than when it's light and sunny. In terms of colors, the decisions are often a reflection on the mood (and I have to add that black does not stand for a bad mood, to me it represents clear and simple), or derive from things that have caught my eyes in recent times.
Over the weekend I've come across some beautiful things in pink, purple and grey, inspiring today's look... glorious bulbs of fresh garlic on Saturday's market, thyme blossoms in our garden, and the summer evening sky we saw on our promenade last night.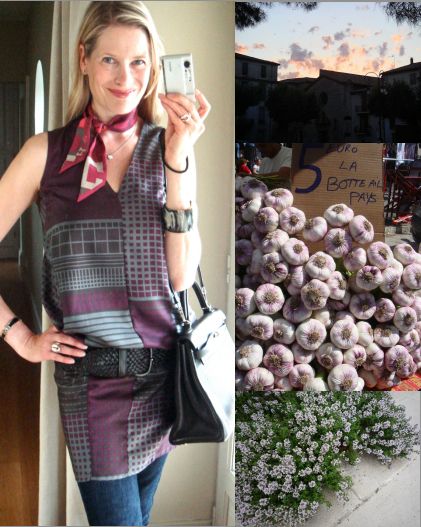 Accessorising with a Capitales Twilly tied in a double knot, 32 Kelly in Ebene, Clic bracelet in black and a weave leather belt. It is notoriously difficult to combine scarves with prints, which is why most of my clothes are free of patterns. But when I saw this silk top, I knew it would be perfect with the Capitales Twilly, as it has the same shades of grey and purple in it. I am guilty of sometimes buying clothes for specific scarves, but not feeling too bad about this one, as I've snapped it up at a sale, 70% off.