This beautiful scarf was designed by Dominik Jarlegant, and issued as part of the Spring/Summer 2009 collection, in the year of travel. Sea turtles are amazing travelers indeed, some of them migrate thousends of miles outside the nesting season.
From the scarf booklet..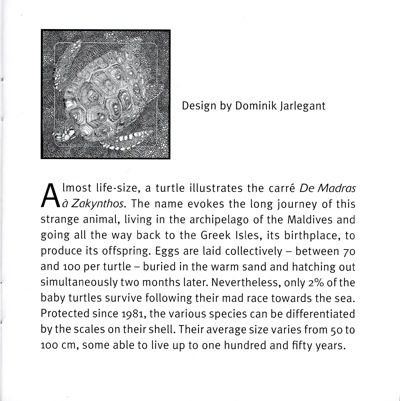 Many years ago I have been lucky enough to come across turtles that have justed hatched, although not in Greece, but in Barbados. For some of them, the 'mad race' towards the sea turned out to be mad race towards inland, as they decided to go into the wrong direction. Perhaps because it was night time and full moon, or maybe they were distracted by the lights of the resort, I never found out. We spent hours carrying lost baby turtles across the beach to the shore, and then watched them as they braved the surf to get to the open ocean.
I often take this scarf when going to the beach, and love to combine it with white, beige, brown or sea blue (you might recognize the dress below, it's the one I wore to the wedding a few weeks ago)