H-ing Up a life vest with a 70 Carré (Jeu de Omnibus et Dames Blanches) tied as a head scarf and my Farandole necklace, ready for a 12 km canoeing trip through the breathtakingly beautiful Gorges de Herault.
Luckily the canoe did not keel over, and I managed to get back home with a dry scarf..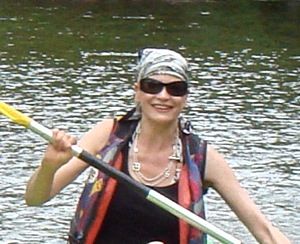 DS and friends playing with baby fish after we had our picnic lunch..
I have to admit that would I not have an adventurous, almost ten year old boy, I probably would have never set a foot near a canoe. But I am glad I did, and it was a happy, fun and exhausting (!) day we all enjoyed very much.
On another note, some computer problems still persist, I had a few emails coming back to me as undelivered. So please don't think I don't answer your lovely emails, dear V.H. (it's been a while, but I loved the fur pics you have sent me), K.O. (I could not reply to you re the LF), T.K. (you were so sweet to write, thank you) and S.L. (thank you for your order)
I'll be away for a couple of days, but will answer comments when back early next week. Have a great weekend everyone!