By mid to end of September, when summer is drawing to it's end, locally grown basil plants are at their best... big, lush and beautiful. It's the perfect time to make pesto, and since I did not have much luck this year with growing my own, I bought half a dozen plants on the market instead..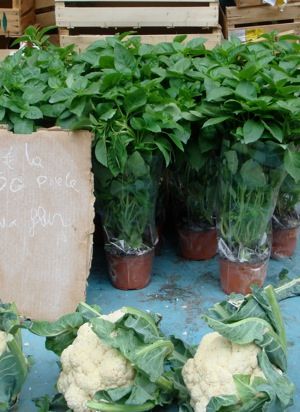 To make one big jar of pesto you need:
1 big basil plant
50 gr pine kernels (1.8 oz)
100 gr hard cheese, grated (3.6 oz.I use a mix of Pecorino & Parmesan)
1 clove of garlic, crushed
salt and pepper
125 ml olive oil (1/2 cup)
First, remove the leaves from the stalks, wash them and dry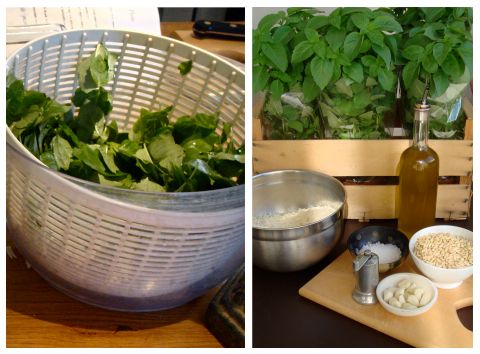 Next, grate the cheese. It can be a tiring job, especially when making several batches, so I usually get my kitchen machine to help me out..
Place all ingredients into a kitchen robot/blender, and blend to a smooth consistency. With the motor running, pour the olive oil slowly into the mix. You can use more or less oil than indicated above, depending on the consistency you like.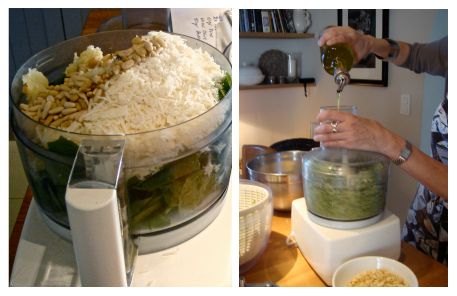 Fresh Pesto freezes extremely well..I usually divide the mix into several small portions and place them in freezer bags or plastic containers, so we can enjoy a wonderful taste of summer all through winter.
That night, I cooked some pasta, and fried a couple of gourgettes with some remaining pine kernels and herbes de Provence. Drained the pasta, tossed it with 3 table spoons fresh pesto and mixed with the fried courgettes. It was delicious!
Having said in my previous post how much I look forward to catching up with everyone's comments, I am really sorry that I still have not managed to do so, as I had to go abroad for a few days. Everyone's participation means a lot to me, and I am sad to have fallen behind so much.
Before leaving, I tried out a 'navy blazer wardrobe challenge' idea from a dear reader, and will hopefully manage to post a photo remotely in a couple of days.