Today's post was meant to be the how-to for the criss-cross bow, but a style request sent by Y.L. via email, took precedence. The how-to will be next, promise!
Dear Mai Tai:
I received Ms. Mocca earlier and it is so lovely! Thank you again [..]. As the weather is getting warmer I have been wearing my trench coat a lot recently. But as it still gets chilly in the evening I still tend to get the fur collar out and wear them. Therefore, is it possible for you to show how you pair your fur collars with a trenchcoat? Thank you very much!
With spring coming nearer, it feels wonderfully fresh and exciting to introduce lighter clothing and accessories to one's winter wardrobe, and as it is one of the big changes of season, it sometimes results in a look with high contrasts in colours or materials. By adding a scarf which picks up on the colors of the wardrobe pieces, the different elements come together, and depending on the cw of the scarf, the overall balance of the look can be shifted towards winter or spring.

For the challenge, I've replaced the trench coat (as I don't have one) with a beige blazer, but the principal remains the same, and can be applied to other colour combinations too. I chose scarves with various degrees of beige and brown, and very much liked the different effects they produced..the darker cw of the Quadrige (top left) brought the collar and scarf together, hereby focusing on the winter element, whereas the soft colours of the Coaching (right) resulted in overall harmony. The Modulation (bottom left) made a light and airy combination with the jacket, therefore giving the look a fresh spring feel..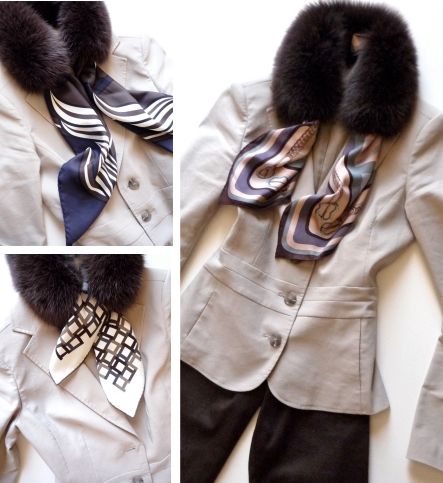 ..another option is to go tone in tone with the fur collar and basic wardrobe (whether it's brown, black, taupe etc), and let the trench/blazer stand out as an accent. For this look I chose the Brides de Gala, taking a last opportunity (at least for now) to show another facette of this beautiful scarf. Soon the days will get brighter, warmer and longer, which is when my cherished Dip Dye usually goes into hibernation until the next autumn/winter.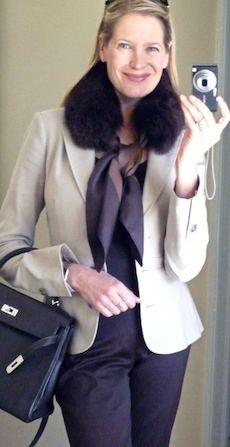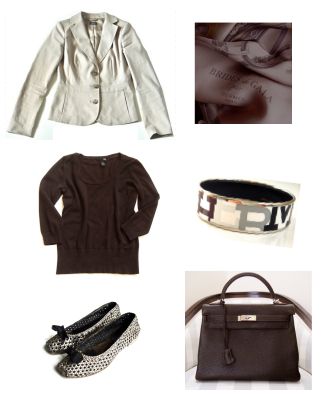 Capsule pieces: chocolate sweater, chocolate cotton trousers and beige blazer
Shoes: mesh ballet flats
Accessories: Brides de Gala 90 Carré Dip Dye,
MT Collection scarf fur collar in mocca
, Capitales enamel bracelet and Kelly in ebene
Scarf tying method:
Ascot knot
Using the scarf as a splash of colour is another possibility, and a lovely way to greet spring with élan! Wearing the same basics as above, but replacing the scarf and bracelet for a Belles de Mexique Gavroche
(two loop method)
and Bourgogne clic clac bracelet.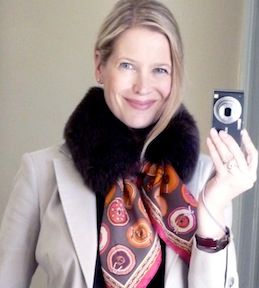 Many thanks for the great challenge, my dear Y.L.!