Early this week I went to Paris for the day, entering a most fresh and beautiful spring atmosphere. Here a few snaps taken while strolling around.. left the clipped trees of the Tuileries Gardens, right the bay trees along side the Hôtel Crillon on the Rue Boissy d'Anglas, and below some of Ladurée's delectable patisseries.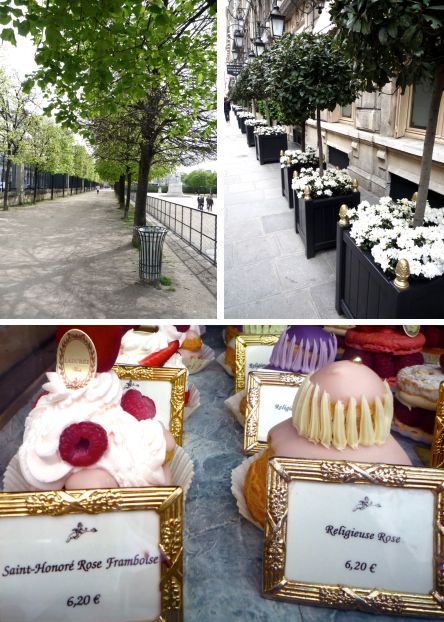 After visiting FSH, I continued down the Rue St Honoré until No 213, where the über trendy and cool Colette store is located. Last year, Colette and Hermès collaborated on the 'J'aime mon Carré Project, and came up with a special edition polka dot Brides de Gala..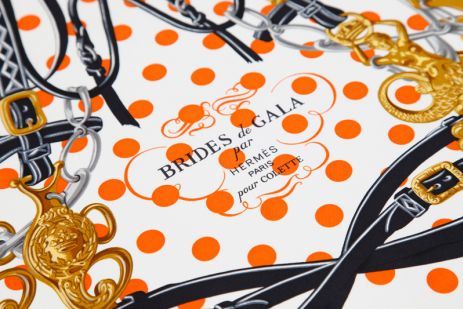 This year Colette and Nike teamed up on the 'Away Project', and on March 28 launched the new 'away kit' of the french national footbal team (Nike is the sponsor of the team), consisting of products created by Hermès, Chanel, YSL, Ladurée, Comme de Garçons and six others (eleven in total, like the number of players in a football team). All products have blue stripes, and Hermès' contribution is a stripey Brides de Gala, currently sold in the boutique and via Colette's
online boutique
in a limited edition of 300.
A petit tour of the store... on the first floor, men and women's ready to wear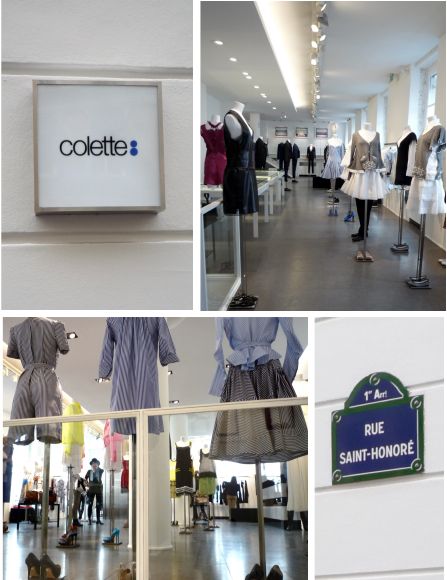 And tucked away, inbetween floors, the 'Beauty Box'. On the ground floor you'll find an eclectic mix of scented candles, latest techno gadges, canvas sneakers and bags, girly bathsalts, sweets, CDs, books and hundreds of other small items.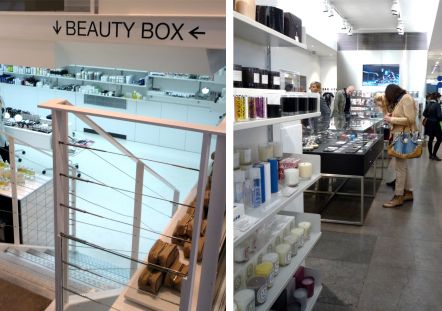 The windows were decorated with pretty sumer dresses of Stella McCartney's spring/summer collection, and I only realized at home that a stylish bypasser walked past the second I took photo, she looks as though she has stepped right out of the display!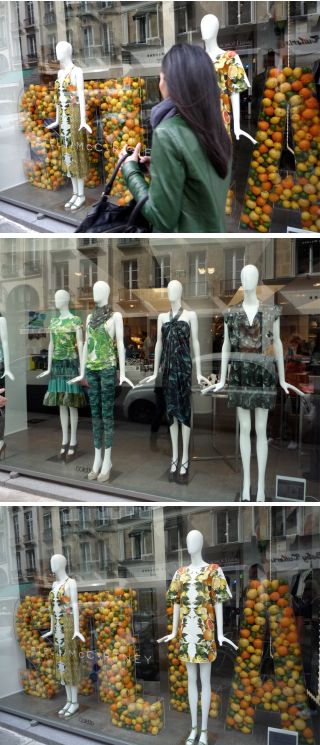 Coming next: FSH windows!
Colette
231, rue St Honoré
75001 Paris