The anthropologic Rautenstrauch-Joest-Museum has always been a favourite of mine, and since its move to a stunning new building in 2010, exploring its content has become an even more amazing journey.
With the move, the exhibits have been organised in a fabulous and innovative way: they are no longer divided into major geographical regions, but grouped by themes (living, religion, ritual etc). Ceremonies and the ways of life of different cultures are now portrayed side by side, and finding out what sets them apart or links them together is inspirational and captivating.
The entrance hall with a rice granary from Indonesia
In addition to the comparative cultural approach, there are also exhibits relating to the everyday life of different regions of Earth.
The Tuareg room
It was a wonderful surprise to discover a 'Cuirs du Désert' scarf in the Tuareg room, honouring the longstanding connection between Hermès and some Tuareg tribes. There have been numerous exchanges and collaborations between artists and craftsmen on both sides (Tuareg silversmiths have produced items for Hermès, while Hermès' scarf designers have drawn inspiration from the Tuareg's way of life). The presentation made the scarf almost look like a headdress, highlighting the centre and one of the corners in a beautiful and dramatic way.
More than 60,000 objects and 100,000 historic photographs provide an insight into the cultures outside Europe - from the American Indians to the Eskimos, and from Central to South America, Oceania, Hawaii, Africa and Asia.
Enjoying a calm moment on the 'Om' bench
ॐ
In the museum shop, I found these pretty, hand made bracelets from Guatemala. Not only a lovely souvenir, but another perfect match for the new 'Laboratoire du Temps'!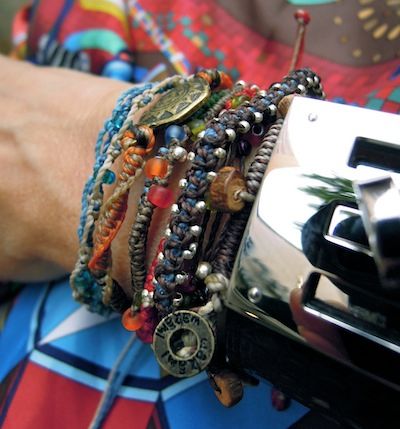 It's been a stimulating, wonderful and memorable experience.
Enjoy a lovely weekend everyone x
Rautenstrauch-Joest Museum
Cäcilienstraße 29-33
D - 50667 Cologne
+49 (0) 221 236 20