In 1937, Hermès introduced it's first 90 Carré, the 'Jeu de Omnibus et Dames blanches', designed by Hugo Grygkar.
About the design, from the Hermès scarf booklet:
The name of 'Dames Blanches', or white ladies, was bestowed on the two-compartment public omnibus that plied the Madeleine-Bastille run in Paris. This was the first Hermès scarf, printed in 1937 from a woodcut patterned on the figures of an early board game.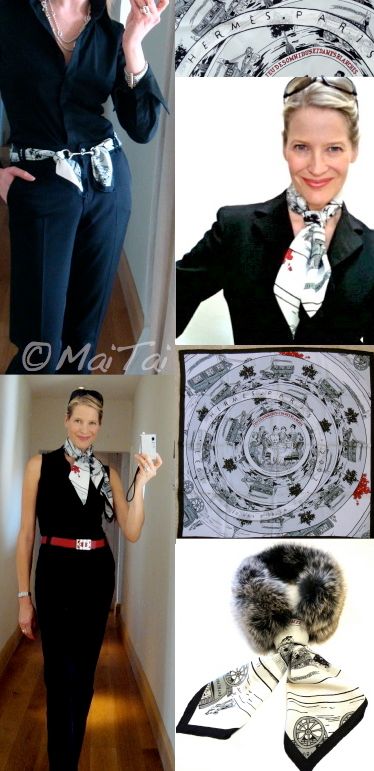 In 2007, to mark the 70th anniversary of the Carré Hermès, the house introduced a new scarf size and type, the Vintage Carré. It measures 70 x 70cm, each centimeter paying a tribute for the 70 years of scarf making. The silk is softer than the silk twill of the regular 90 Carrés, it is meant to feel as though it been handled and worn for many years. The silk is called 'Soie Vintage' and the scarves themselves are referred to as anniversary scarves, 70 Carrés, or Vintage Carrés.
The 70 Vintage re-edition of the very first Carré Hermès is called
Jeu de Omnibus et Dames blanches: 1937-2007.
Here in the black and white CW, with just a hint of red.