This beautiful
Gavroche
took me by surprise, I thought that on me, it might perhaps be a little too bright. But when folded, the neutral colored background and feathers dominate, with the border just adding a splash of color.
I bought it with spring/summer in mind, but as it was cold today, I teamed it up with a chunky knit and my
Salt&Pepper
fur collar. It brightened up a gloomy day in a wonderful way!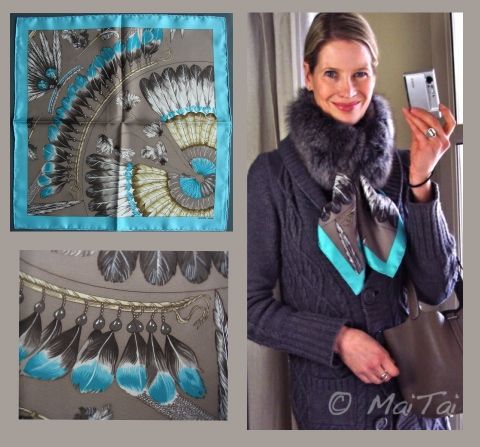 The design (Brazil II, which is a zoom of the 1988 Brazil
Carré
) features beautiful and exotic feathers and pearls, as used by the Indians in Brazil since centuries, for headdresses, rituals and ceremonies. For
more detail shots
of Brazil II click
here