Last week in Paris, I was very lucky, FSH already had a few of the Autumn/Winter 2010 scarves in stock (they came in very early this year) AND I have met with two readers of this blog! One meeting was organized per chance the day before, the other one was impromptu. A warm hello to both of you, it was truly wonderful to see and meet you :-))
These are the 90 Carrés I tried on, the Cheval de Légende, Jardin de Métamorphoses and Cent Plis de Miao
photo credit hermes.com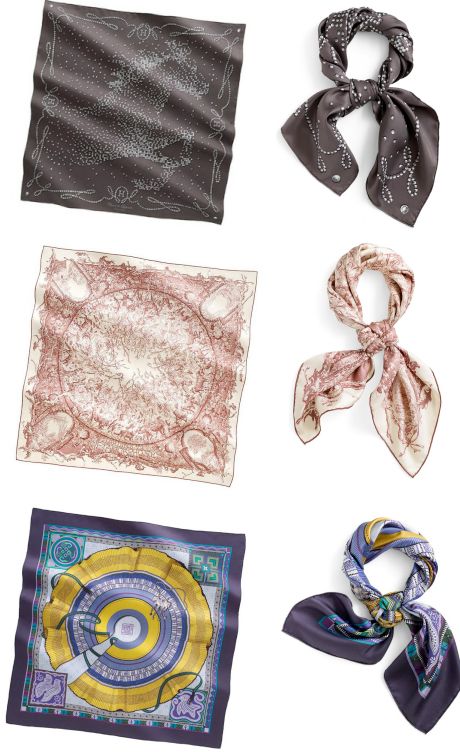 The Cheval de Légende is simply stunning when flat out, the tiny beads that shape the horse have an amazing 3D effect, and the way they are arranged make the horse look magical. It is full of wonderful energy, which gets lost a little bit when the scarf is tied, as the beads are trailing off in the corners. I still loved the scarf, especially with the silver colored beads in combination with the brownish/grey background, but moved onto the next one...
Which was the beautiful Jardin de Métamorphoses, here in a display with the matching tableware. In the china, the pattern did not come out in a way I imagined it, but it looked divine with the scarves. I can only imagine how sensational the JdM would be as a mousseline, and have begun to pray to the scarf gods for a reissue in a mousse!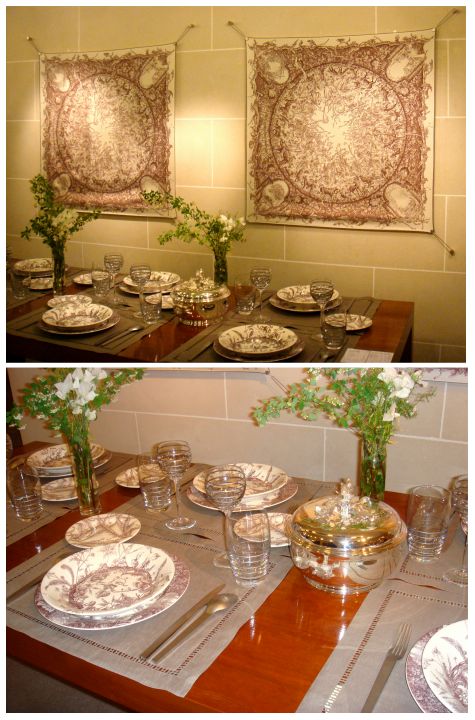 And this is the one I fell in love with, the Cent Plis de Miao. The design is inspired by the pleated skirts worn and made by the woman in Miao, China, which are apparently made of 100 pleats. Not quite sure how different dress sizes would work out! The Plissé effect on the silk is absolutely amazing, and the colors are warm, rich and beautiful. I love how all corners are different, not only in pattern, but also in color, and look forward to experiment with knots and folds, to bring out the different aspects of this fabulous scarf.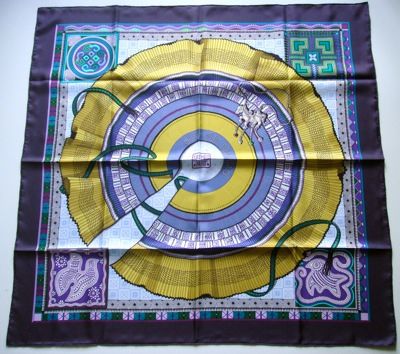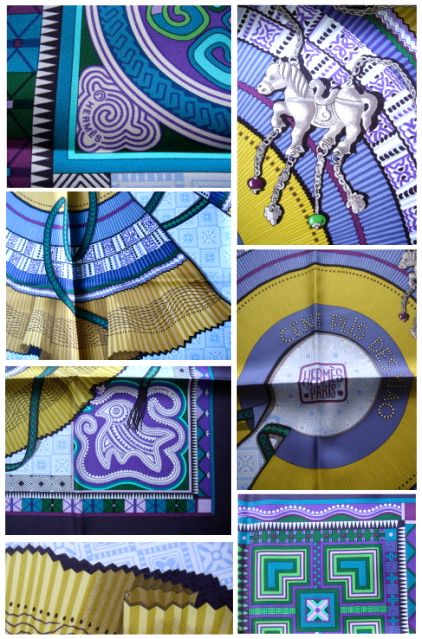 On leaving FSH, I felt relieved to have kept the damage to my bank account to one scarf purchase, but of course I have not made it past the enamel counter yet, which is located dangerously close to the exit. And sure enough, my eyes were caught by this beautiful Clic Clac bracelet, which turned out to be a perfect match to my new scarf, and to Ms Bolide too. I simply couldn't resist it, and so it came home with me too.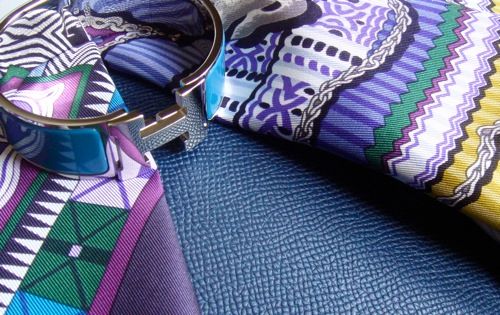 There was one more surprise at the scarf counter, they had the
La Femme aux Semelles de Vent
in the black/white/blue CW. Knowing that a few of you are searching for it, I snapped it up.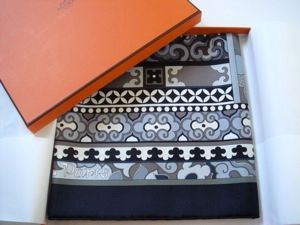 The price is what I have paid (280 Euros), plus shipping and PayPal fees. As a bonus, I'll include a set of the current scarf knotting cards :-))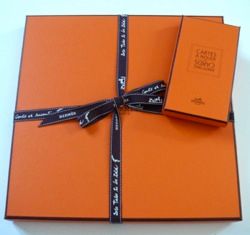 Anyone who is interested, please email me at: maitai55@orange.fr
I will collect and print out all emails, and put them into envelopes. By the end of next week DS will draw the winning one, good luck!