I've been caught up this weekend, with too many things to do, and did not have time to take any new photos. Instead of posting nothing, I've transferred my Paris travel wardrobe from last summer into style sheets.
I have had the top and the trousers for ages, both are reliable and much loved capsule pieces. The simplicity of the cut and colour makes this a timeless combination, and a great canvas for adding accessories.
It also makes a great travel wardrobe, as small changes in the choice of accessories create very different looks. The sleeveless top was saving the day, as it was very hot, and because of the overall 'all black', the combination was dressy enough for a city trip, while being easy and comfortable at the same time.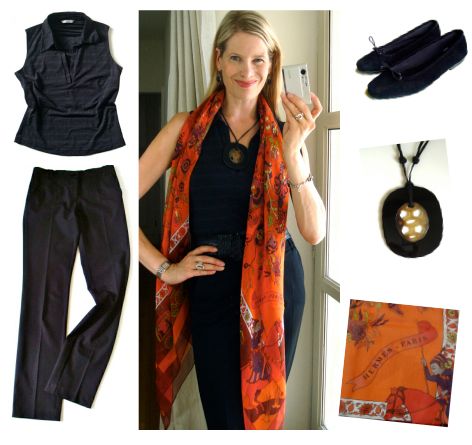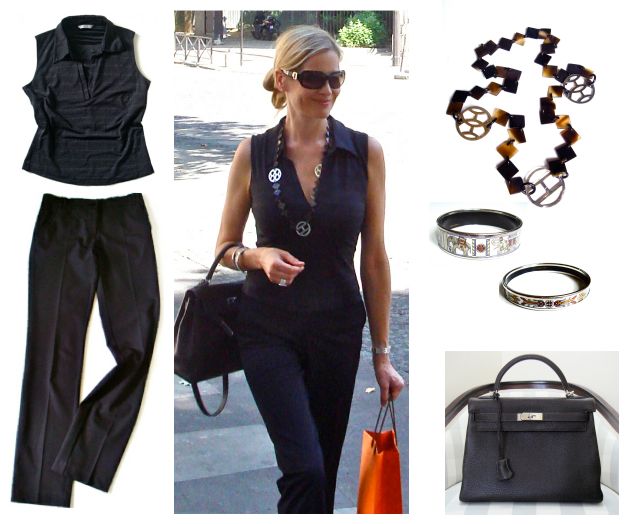 1. Lift pendant in black laquer/horn, and 'Fantaisies Indiennes' GM mousse, worn in the basic bias fold
2. With Lena horn necklance, ebene Kelly, and Elephants and Torana enamels
3. With a 70 Vintage Carré worn as a belt, secured with a Gavroche ring. Lift horn earrings, and Elephants enamel