The capsule wardrobe series is one of my favourites on this blog. I have always been convinced that accessories 'make a look', but it is through this series that I realize just how much a wardrobe gets maximised by slight variations of the basic pieces, or minimal changes of accessories. It is truly a fun and satisfying process to find ever changing new looks and combinations, much like playing with a kaleidosope.

Today wearing the purple knitted top from a couple of days ago, back then it was framed by jeans and a scarf in matching colours..
..this morning, we had a hint of autumn in the air, so framing it with darker colors (khaki colored trousers and khaki cardie) while wearing the scarf as an accent. Scarf knot and basic accessories like in the previous post.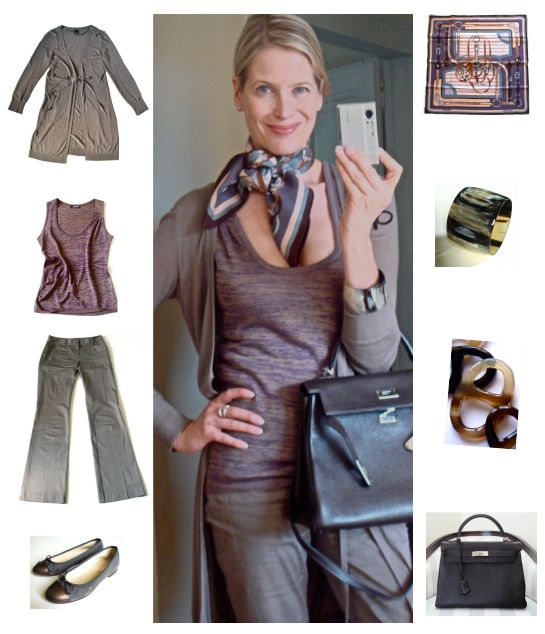 Capsules: beige/purple tank top, khaki cotton trousers and khaki cardigan
Shoes: bi-color ballet flats
Accessories: Coaching 70 Carré, Ebene Kelly and MT collection horn bracelet
Scarf tying method: Snowball knot. Click
here
or on the thumbnail below for a how-to
Scarf ring:
MaiTai Collection
, honey moyenne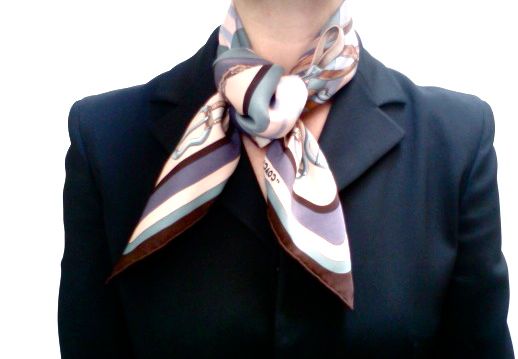 You might also like: