Today's post combines my three favourite series of this blog: reader's requests, capsule wardrobe, and H it Up!
Here is dear 'G's' question from last week:
Can you think of a way to to wear a carre tied in a more masculine fashion either with a crisp, cotton, french cuffed blouse. The scarf would be tied to recall men's wear.
As well, I thought or hoped that I could wear the same tie on an open neck with a suit that is somewhat men's wear inspired. The blazer is fitted and has single button placket; just hip length. The pants are pencil, and more ankle length.
I was happy to discover that the description matched pieces from the capsule wardrobe. For the scarf, I thought a traditional feel would work great, and chose the 'La Réale' 90 Carré, as it has a fleur de lis pattern (reminiscent of men's ties) and lots of gold. Placing it under the collar adds a masculine touch, which is emphasised by a traditional tie-knot, pulled close to the neckline. Brogues shoes play along in the same line, whereas the bright red of the scarf and belt (and some lipstick) bring a playfulness without weakening the look.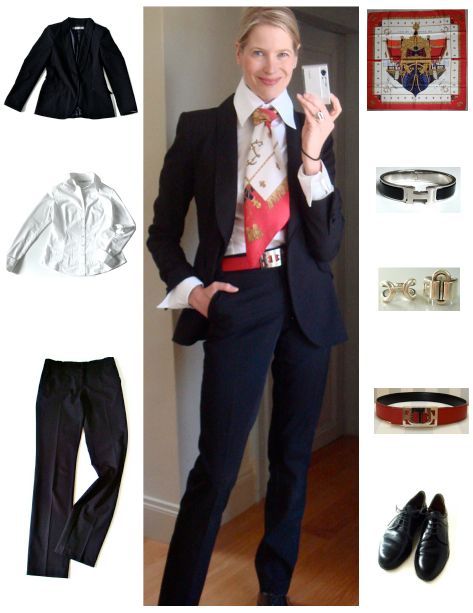 Capsule pieces: black trousers, white shirt, black jacket
Shoes: Black brogues
Accessories: La Réale 90 Carré, Muse belt buckle with rouge garrance belt strap, black clic-clac bracelet and silver rings
Scarf tying method: Tie knot (like in men's ties)
Below a more casual approach, but still using the exact same capsule pieces and accessories as before, with the scarf placed inside the collar, and the knot tied in a looser way.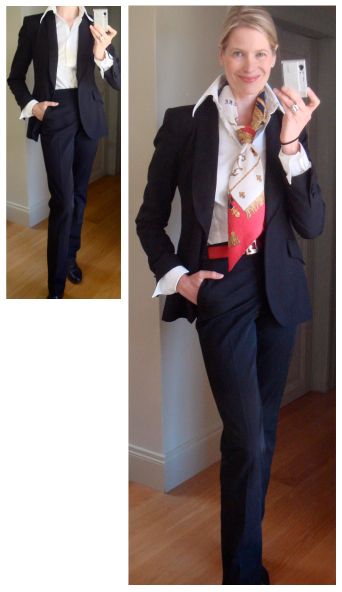 I hope more of you will come forward with style requests/challenges so that the fun can continue!
You might also like: