it was a cold, but beautiful day. I had a busy morning, and went for a visit to FSH in the late afternoon. As usual, I approached from the rue Boissy d'Anglas, rather than going along the rue Faubourg St Honoré, as I love walking past the bay tree planters along the Hôtel de Crillon, which look like a guard of honour, leading the way to H. The flowers and greens that make the ground cover are constantly renewed and changed, and checking on the current look is almost as much of a treat as trying to recognise which scarves the horseman on the rooftop of FSH (La légende du Poisson Corail) is holding this time.
Last week, all windows (except of the big corner window, which still showed the beautiful
autumn forest
) were covered, and I was hoping to see new displays this time. No such luck though, they all had lowered blinds, only that the main window's one didn't quite reach the floor..as I got closer, I could see an array of spring flowers through the gap.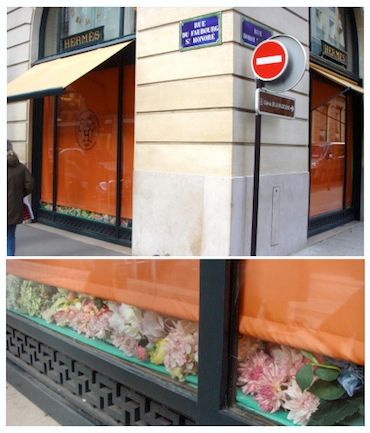 Spring flowers around Christmas time! At first I thought they must be placeholders, but when inside FSH, I noticed the door that gives access to the corner window was open, and saw a huge array of more pastel flowers waiting to be arranged and brought in. The walls were covered with a pale mint colored fabric..looking very much forward to seeing the wonders that will evolve..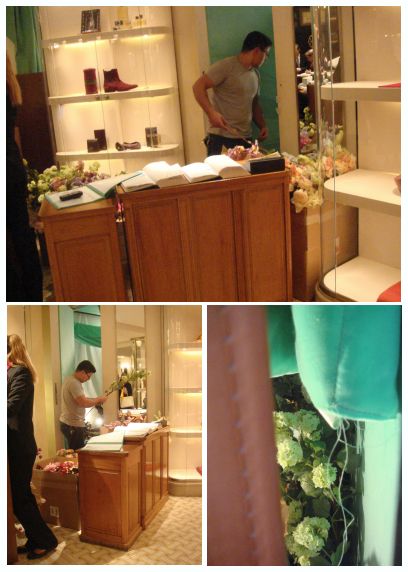 Inbetween the bag and saddle department, this beautiful camel reminds visitors of the 'Petit h' event (Nov 4th to Dec 13th) which takes place on the first floor. 'Petit h' is a temporary gallery/shop, filled with amazing items that have been made out of discarded or scrap pieces of the ateliers, or out of items with small faults. It's a beautiful concept of recycling, and as every piece is handcrafted to perfection, 'up-cycling' might be a better word!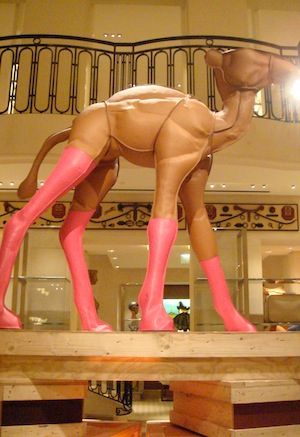 Leather swatches were turned into postcards or place mats, scarves with minor defects into shopping nets, evening bags or lamp shades, and broken crystal glasses into chandeliers. All pieces are for sale, and one off.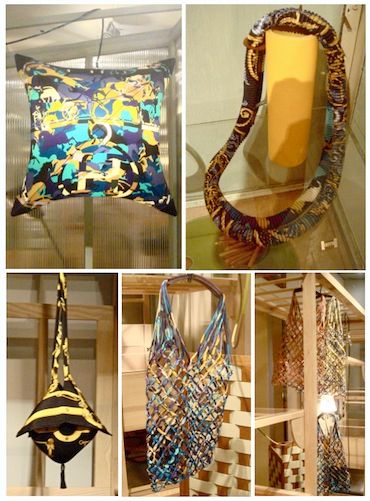 These 'drainpipe' type of necklaces were great statement pieces, light as a feather and made of pleated scarves (I recognized Boutons De Vénerie, Ex Libris Camouflage, Cent Plis Des Miao and La Charmande Aux Animaux), and below some equaly amazing braided leather colliers (in Rouge H Box, and black Swift)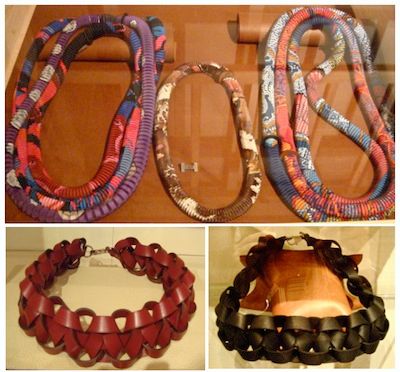 On leaving FSH, I crossed through the small and picturesque 'Le Village', which is always stunningly decorated at Christmas time. I took the left pic when already half way through, and the right one on leaving.. the time inbetween was spent in one of the villages' shops, sucessfully finding a new ski suit. Really happy about it, as in the last few years I only ever remembered just before the skiing holidays, at which time of course there were none left in the shops.