And here the dernier snippet of my trip to Paris last week.. a visit to Hermès' new store on Paris' left bank (opened a couple of months ago), located at 17 Rue de Sèvres in St. Germain de Près. The space is enormous (14,500 square feet) and used to be the indoor swimming pool of the Hotel Lutétia. Many of the original art nouveau features were kept, such as the mosaic floor and iron balconies. The vastness is broken up by three wooden 'tents' in the middle of the basement floor, designed by Denis Montel. It is a truly breathtaking sight, and to explore them, one walks down a sweeping staircase with fabulous curved banisters made from ash wood. The 'tents' feature the interior design collection, and it was fun to spot many familiar scarf designs, which were turned into cushions, wallpapers, trays, plaids and throws.
There is a book shop called Chaîn d'encre (encre is 'ink' in french, a nod to the chaîn d'ancre design element), a tea room called Plongeoir (diving board), and a flower shop (by Baptiste), which is located right by the entrance and is part of the front window display.
The store has a scarf department, and a small rtw, shoe and bag section, but focuses mainly on interior design. Below a bedroom display in one of the tents, wallpaper panels (Pele Melee and Bibliotheque) and some designs of the fabric collection (OP'H and Finish).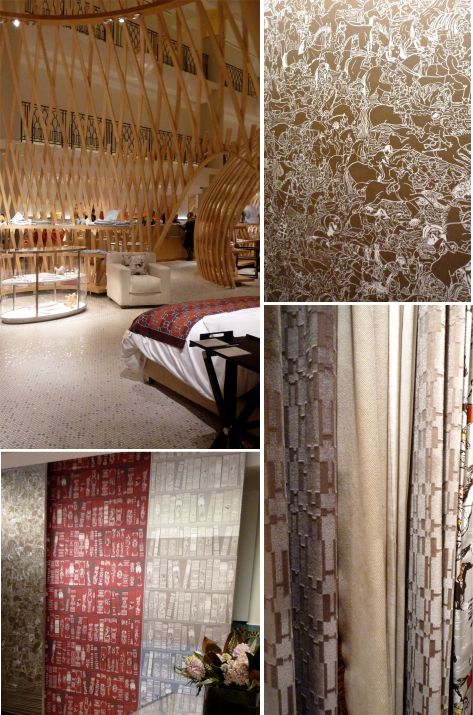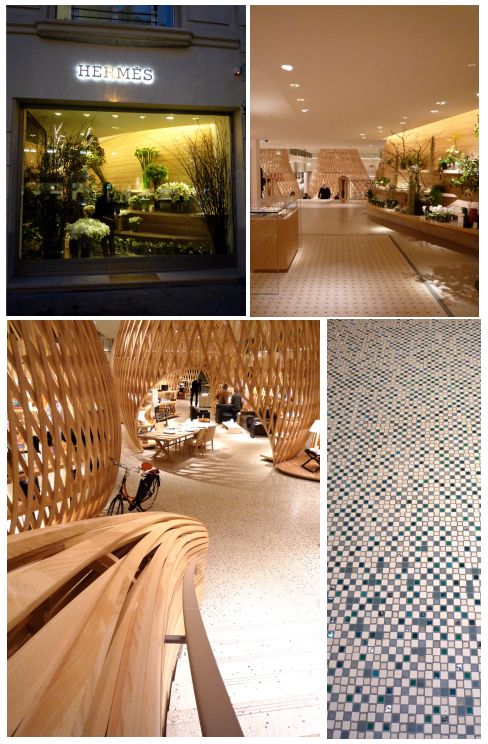 I found a lovely souvenir at the store, a clic-clac bracelet in bourgogne. I have persued this colour for some time, and am so glad to have finally found it.