When bringing a new scarf home, I love to explore different ways to wear it, and see how different knots create different looks, and which clothes it goes well with . The recently acquired 'cheap and chic' scarf did not escape the routine, and first of all I tried dear Lilian's suggestion from a couple of days ago:

Might I suggest this scarf for demonstrating the already mentioned waterfall knot, as it is long enough and is not too thick, i.e. it would make a wonderful waterfall? :-)



And of course it did make a wonderful waterfall, thank you Lilian! The instruction video is in the making, and will follow soon :)

Curious how the scarf would work with a casual outfit, I remembered A.R.'s recent request, which I received by email

Hello!




Since becoming a mother 3 years ago, I've lost my personal stye. Spending most of the days playing on the floor and changing diapers didn't leave much room for anything but lounge pants and t-shirts. Since my daughter started pre-school, I am able to better reconnect with my style. I have always had a passion for Hermes scarves and am trying to again incorporate them into my everyday wardrobe. My questions is, could you show more casual, mommy on the go looks in an up- coming post?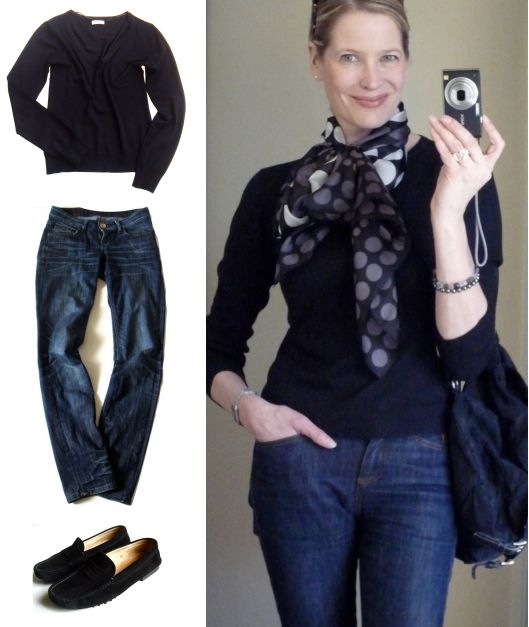 I exchanged the grey wool trousers from last time..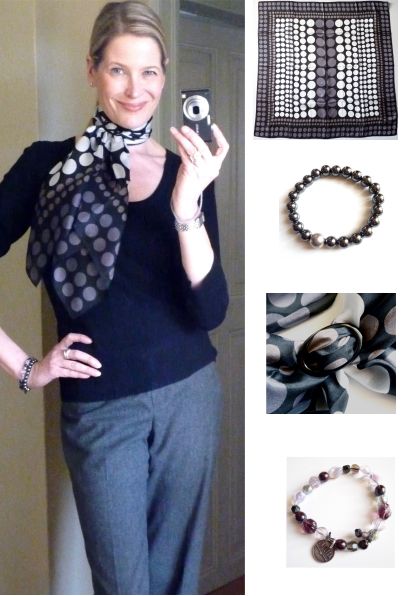 ..for a pair of jeans, while keeping the rest of the wardrobe and accessories pretty much the same. When DS was little, jeans were the most practical basics for a casual mommy-on-the-go look, and as the scarves play the flamboyant part, I keep the tops simple. Shoes have to be comfortable, and I like to match their colour to the top (or pick up on colours from the scarf), to frame the jeans.

Capsule pieces: jeans, black v-neck sweater
Shoes: black suede loafers
Accessories: Cheap and chic silk scarf from Galerie Lafayette, beaded bracelets, ancient Prada nylon knapsack (when DS was little, I used it as a nappy bag, and it still comes in handy on more adventurous outings, such as tree climbing, rollerblading, canoeing etc)
Scarf ring:
MaiTai Collection
moyenne size in black
Scarf tying method: Waterfall knot, instructions soon to come!
PS. If going for a H scarf (depending on the age of children who are part of the outing) I would make sure to keep the ends short (ascot knot with the ends secured behind the neck, cowboy knot etc), or go for smaller formats such as Twillys or Gavroches. However, with my wonderfully inexpensive new scarf, I am going for a full length knot ;)

Many thanks for the inspiration, dear Lilian and A.R. xx