.. it was a cold but beautiful winter's day. As usual, no visit would be complete without a stopover at FSH. The horseman on the roof top held Aloha Carrés from the SS2010 collection, matching the
vibrant colours of the current corner window's display.
All other windows were in the process of being redecorated, so no new pics this time!
Moving over to the left bank, I went to check on new treasures displayed in the 'bamboo baskets' (love this expression, thank you, dear Scarf Enthusiast!) of the
Rue de Sèvres boutique.
I spotted a few more scarf designs turned into homeware, and the beautiful 'Plume' (by Henri de Linares in 1953) looked particularly lovely and inviting as heavenly bed sheets. The cashmere throws depicting the Quadrige pattern were another favorite, so gorgeous!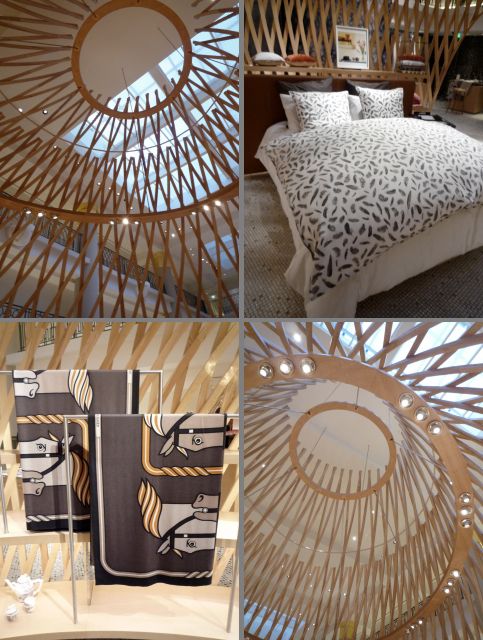 Stepping outside H, you'll see the fabulous department store 'Le Bon Marché' just a stone throw away. I needed a winter hat, and fell in love with this dark chocolate brown one, which kept me wonderfully warm for the rest of day.

Scarf: Brides de Gala Dip Dye 90 Carré
Scarf ring:
MT Collection
grande in black
Scarf tying method: Scarf wrapped once around the neck and ends secured with the
basic slide method
.
I was hoping to snap some pics of petite Parisians wearing jeans and ballet flats for dear Tabitha, Trudye and SMR, but as it was so cold, everyone was wearing jeans and boots instead. I decided to at least practice my 'paparazzi skills', and got lucky on the escalator in the 'Bon Marché', were a stylish Parisian was shopping with her daughter, carrying a beautiful Picotin!

I had no chance with catching up on everyone's lovely comments on the previous post, but will try my best to do so soon.

Le Bon Marché Rive Gauche
24 rue de Sèvres
75007 Paris
+33 1 44 39 80 00
www.lebonmarche.com
You might also like: