A couple of weeks ago, I received this great style challenge via email:
I would love to purchase items you show as I'm sure many other readers would like also, unfortunately our budgets do not run to such wonderful items. Is it possible that you could show us how to start to incorporate what you show but with cheaper accessories.
When I was in town last week, I went to investigate the scarf counter at the 'Galerie Lafayette'. The sales were still in full swing, and I was lucky to find something perfect to meet the challenge.
It was reduced from 29,90 to 14.95 EUR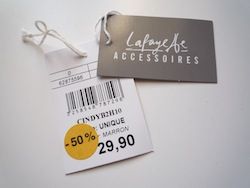 and it is made of 100% silk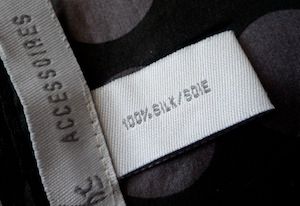 A very pretty scarf!
Cheap & Chic pieces
Clothes: Grey wool trousers by Caroll, black sweater by H&M (9.90 EUR)
Accessories: the bracelets were gifts from girlfriends, but similar ones can be found or made in pearl or arts and craft shops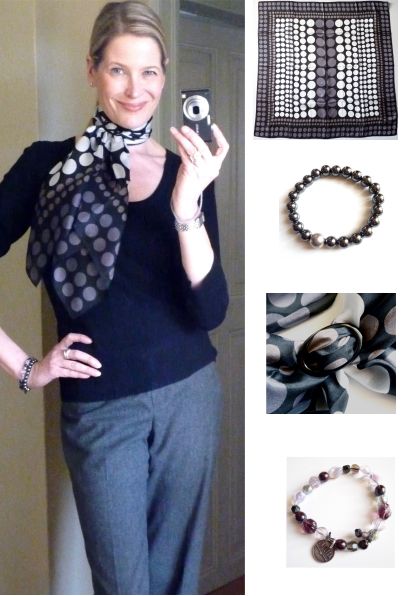 How to work the scarf
Scarf ring:
MT collection
, black moyenne
Scarf tying method: Fold scarf in the
basic bias fold
, wrap once around your neck and slide ends through a scarf ring with the
basic slide
method.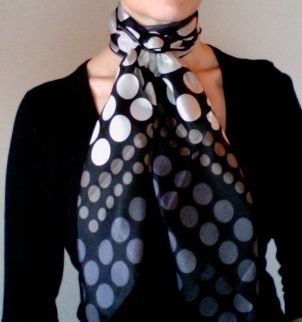 Tip: Choosing the right scarf ring size does not only depend on the size of a scarf, but even more so on it's weight and thickness. Although this scarf is large (97 cm x 97 cm), I used a moyenne size scarf ring, as the silk is considerably thinner and more lightweight than the silk of H Carrés
I loved this challenge, as I believe that stylish looks can easily be achieved with modest or moderate budgets. Of course I adore my Hermès accessories, but it was fun to prove how an inexpensive scarf can elevate a simple outfit into a chic look. In my view, the effort is so much more the key than the cost. With time, I will try a few more knots with Ms Polka Dot, I hope you'll enjoy. Many thanks for the challenge, dear V.I. !