Today's reader's style challenge came a couple of weeks ago via email, from dear C.S.
I read Frances' request for an asymmetrical shoulder wrap knot video, and was wondering if you would please incorporate into that a way to wear that style more casually, like with a pair of jeans?
When checking on previous postS featuring the wrap, I realized that I have only ever worn this knot in a dressy way, so C's request was an interesting challenge.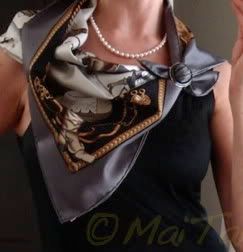 To me, a key element of this knot is to let the scarf define the neckline, which is why I think tops with a cut out neck work best (it might be great though with a rollneck too, and I will give this a try in the next couple of days) So for the casual look C requested, I chose my recently purchased v-neck (new clothes get the same treatment of being experimented with as scarves), a pair of jeans, and the Carré en Carré, as it picks up so nicely on the khaki sweater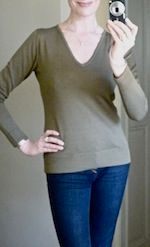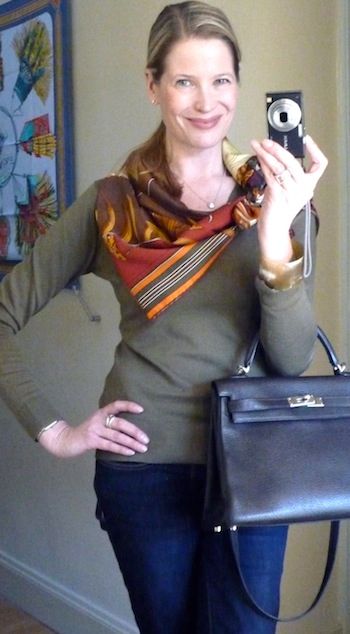 Capsules: blue jeans and khaki v-neck sweater
Shoes: suede loafers
Inspiration: C.S.
Accessories: Carré en Carré 90 Carré, MT horn bracelet in honey & écru, 32 Kelly in Ebene (and a short necklace, which avoids having the neckline look bare)
Scarf ring:
MaiTai Collection
- light honey moyenne (instead of using a scarf ring, you can also secure the ends with a small double knot)
Scarf tying method: asymmetrical shoulder wrap click
here
for a how-to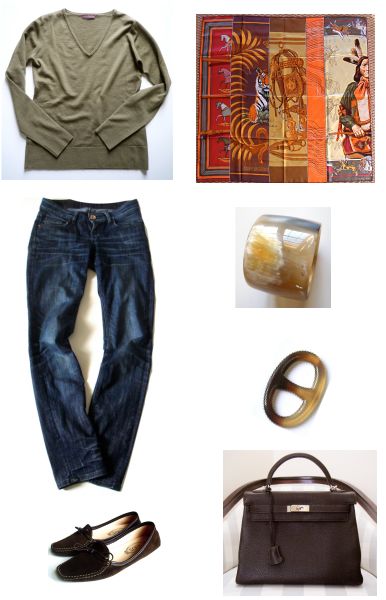 Much like the waterfall knot, the asymetrical shoulder wrap looks different each time you tie it, and you can play with having it draping over one shoulder only, or both, or none.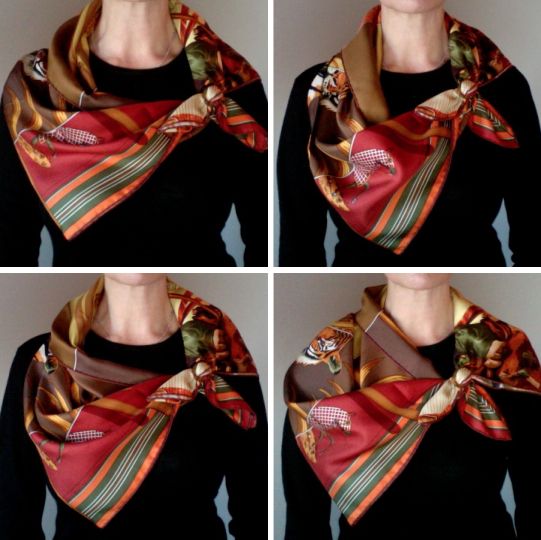 I'm so glad to have discovered how lovely this knot is worn casually, many thanks, my dear C!
PS. Frances, I have not forgotten your request, and a how-to video will replace the photo tutorial soon.
Many thanks to all for the lovely and sweet comments on the previous posts

♥♥

♥
You might also like: