After a fabulous trip to New York, it feels good to be home again, and looking forward to sharing my favourite spots and activities over a series of blog posts. Kicking off with the essentials, where to sleep and eat.
The London NYC
hotel was a fabulous place to stay, and the location could not have been better, it was within short walking distance of many of the places we planned to visit. Since this was DS's first trip to NY, our main focus was on sightseeing. Venturing through a big city can get easily tiring, so it was important to find some calm and restful activities and places too, where one could restore energy. This being a family trip, it was quite different from previous visits, but I am glad to have seen so many of the fabulous sights this time, that were neglected on past trips.
The London NYC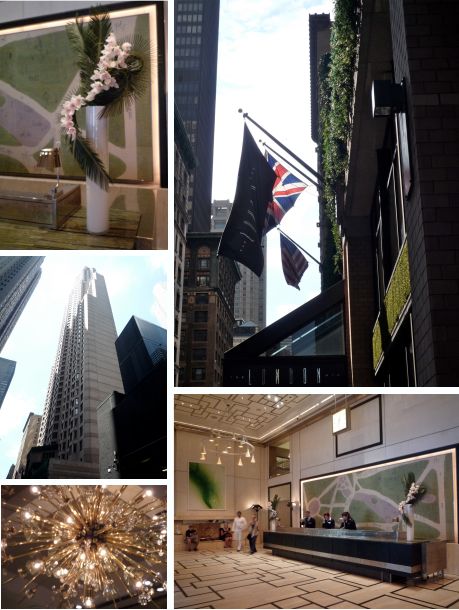 We took DS to
P.J. Clarke's
for his first NY hamburger. Their classic american food was delicious, and it was fun to soak up the rich history of the place by looking at the black and white photographs hanging off the dining room walls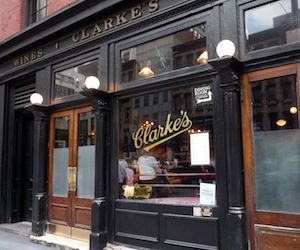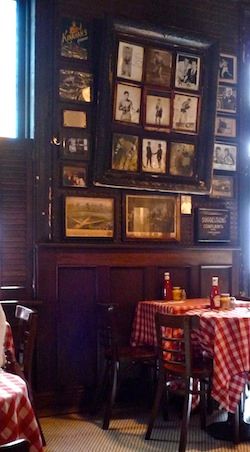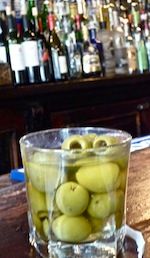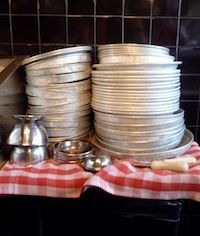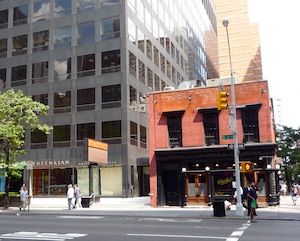 In the evenings DS got very tired (a combination of jet-lag and full-on days), so most of the time we would stay for dinner at the hotel and book a table at the
Maze
restaurant. Being a huge fan of
Gordon Ramsey's,
it was a wonderful treat to eat from his menu every day, and by the end of each afternoon, we were all looking very much forward to yet another fabulous dinner.
Dinner at the Maze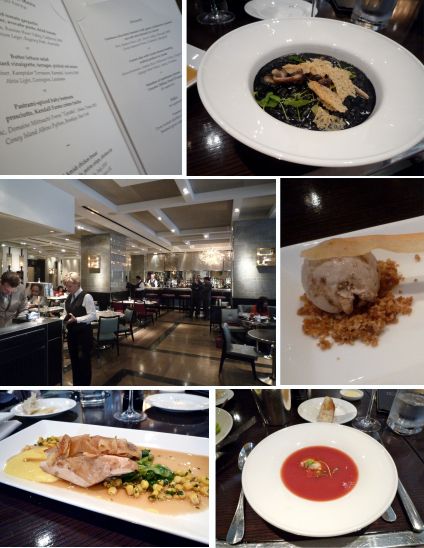 Growing boys are always hungry, but quick remedies can be found at every street corner.. DS of course loved the hot dog and pretzel stands, here with his favorite snack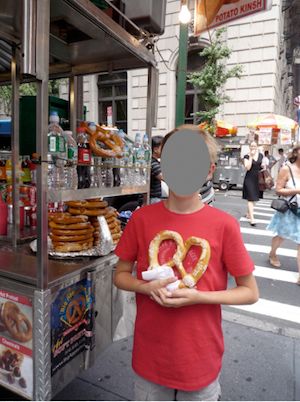 After lunch, we spent an considerable amount of time at the amazing
FAO Schwarz
toy shop and the incredibly busy
Apple Store on Fifth Avenue
. Looking for some peace and quiet, we crossed the road and went for drinks at the beautiful Plaza hotel, a true oasis of calm. After enjoying hot chocolate and a glass of bubbly in the plush Champagne bar ..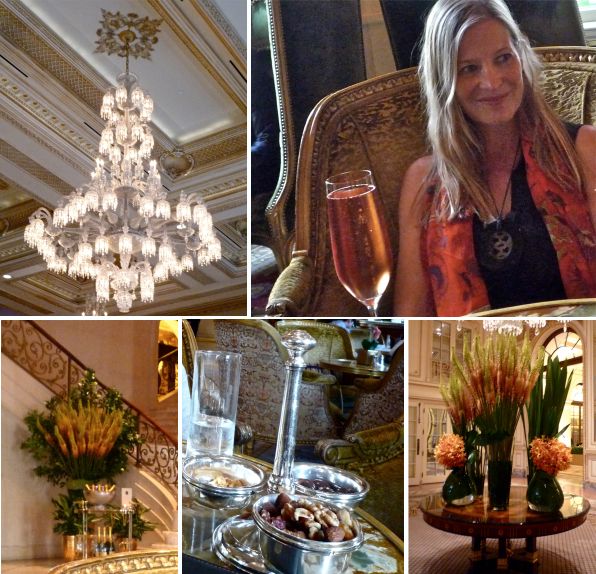 we felt refreshed and stepped outside to admire the
Circle of Animals/Zodiac Heads
sculptures at the Pulitzer Fountain, just outside the Plaza. It is a traveling exhibition by the chinese artist
Ai Weiwei
, and we were lucky to catch it on one of it's last remaining days, by now it has moved to Los Angeles and will show in Houston and Washington DC next year. We had fun finding 'our' signs..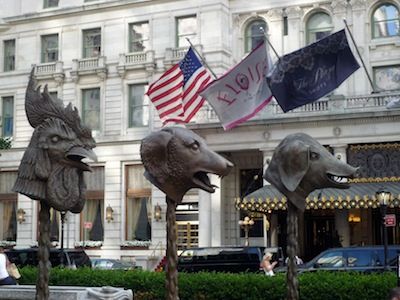 and comparing the different expressions of the animals. DS' and mine (dragon and rabbit) were right next to each other, and I could sense how pleased DS was with the rich decor and fierce expression of 'his' dragon (much in contrast with the more plain and docile look of the rabbit!)
The London NYC
, 151 West 54th Street, New York, NY 10019, Phone: 866-690-2029
P.J. Clarke's
915 3rd Avenue, New York, NY 10022, Phone: 212-317-1616
Maze
at the London NYC, adress as above, Phone: 212-468-8889
The Champagne bar
at the Plaza, Fifth Avenue at Central Park South, New York, NY 10019, Phone: 212-546-5311
To be continued....
Happy news re the Autumn/Winter 2011 scarf booklets, they have started to arrive at the H stores. Because of copyright issues, it will not be published here though. For the same reason I have deleted all previous booklets and related materials from this blog. Many thanks for your understanding.