The weekend has been extra special and fun, and was greatly anticipated by DS as it was his 11th birthday. Following a party for his friends on Saturday, there were more celebrations today, as it's the actual day of his
anniveraire
. Even though we missed the sunshine yesterday, we had a wonderful time. Happy birthday to all Libras!
ready for the candles..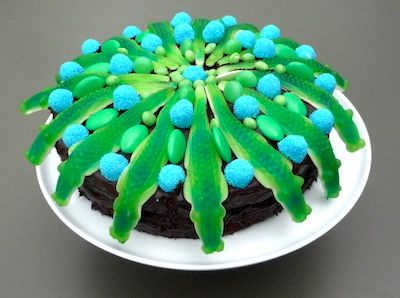 Capsule pieces: white jeans, french-grey tank top and long cardie
Shoes: ballet flats
Accessories: La Femme aux Semmelles de Vent 90 Carré, Chaîne d'Ancre enamel bangle
Scarf tying method: low criss cross knot with a Grande dark MoP scarf ring. Please click here for a how-to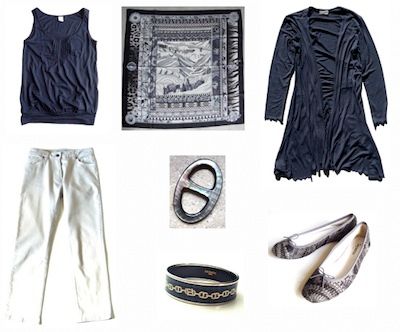 Chocolate birthday cake
2 tablespoons cocoa powder
2 tablespoons boiling water
175gr (6oz) soft light brown sugar
175gr (6oz) unsalted softened butter
3 eggs
175gr (6oz) superfine self-raising flour
50gr (2oz) ground almonds
100gr (4oz) dark chocolate, chopped into little chunks
In a small bowl, blend together the cocoa powder and water to make a smooth paste, and leave to cool.
Place the sugar and butter in a mixing bowl and beat together until light and fluffy. Add the eggs one at a time, beating well after each addition, until the mixture is thick and smooth. Beat in the cocoa mixture. Sift in the flour and combine. Add the ground almonds and fold in carefully, then stir in the chocloate chunks.
Pour mixture into a lined round cake tin (26cm/10.25" diameter) and bake for approx. 25 min in preheated oven (180˚celsius/350˚F).
Repeat the process, so you end up with two cake disc. Sandwich them together with chocolate frosting, then cover the entire cake with frosting and decorate. You could also use other shapes of cake tins, ie a loaf tin to make a treasure chest cake, or a muffin tray to make
cupcakes
You might also like: