Reader's requests and challenges are amongst my favourite blog topics, and the one recently submitted by Susanna via a comment echoes similar questions I received per email
Dear Maitai,

I love your look and have been trying to incorporate silk scarves in my outfits. They look very chic and youthful on you. I feel they are ageing me, even when I wear them with current trends. Do you have any tips or thoughts on this? I seem to have the same issue with other classic accessories (pearls!) that I adore.

Thank you,

Susanna
Many thanks for the great challenge, dear Susanna!
In my view, one of the most important aspects in avoiding a too mature look, is to steer away from appearing too 'made up'. One of the easiest ways to avoid this, is to opt for casual wardrobe staples in combination with silk and pearls (leather jackets, jeans, t-shirts, or items in bold colors/prints). But, more structured or classic wardrobe staples can easily be dressed down too, which is why I chose a white shirt for this (probably first in a series) episode. To add to the fun, I decided to accessorize with a scarf AND pearls.
Teaming up the white shirt with corduroy jeans and an ethnic belt adds an instant twist. Putting on a man's watch has the same effect, while the cardigan is easy and neutral enough to swing either way. Wearing the shirt with an open collar and scarf in a loosened up tie-knot gives an easy going and relaxed appearance. In terms of shoes, ankle boots add an edge, while moccasins or ballet flats give a further casual touch.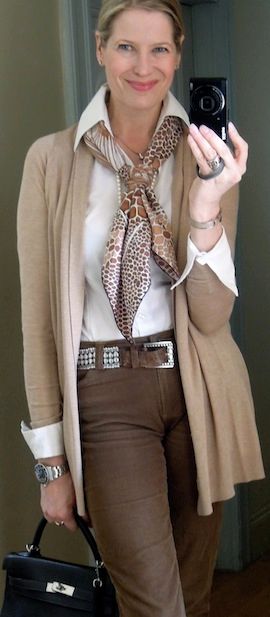 The above is instantly deconstructed when replacing the corduroys with a pair of jeans (which can be further emphasised by opting for a pair of canvas sneakers, or well worn flats)
Changing the jeans to a more formal pair of grey flannel trousers adds gravitas to the look. Keeping the belt is the key to avoid a too mature impression. Adding whimsical bracelets would be another great option to shift the balance. The pearl necklace felt just too much, so I replaced it with simple pearl studs.
Capsule pieces: Cardie by Mango, white shirt by Anne Fontaine. Corduroy trousers by Somewhere, jeans by 7 for mankind, grey flannel trousers by The Kooples.
Scarf: Hermès 'De Madras à Zakynthos' 90 Carré
Scarf tying method: tie knot
Accessoires: pearls, ethnic belt (a similar belt can be bought online here), clic H bracelet in marron glacé (Hermès)
For all who enjoyed the recent posts on layering, you can add a light trench coat to keep warm, while knotting the scarf in a
cowboy knot
or
basic slide
(wound once around the neck beforehand), or wear just the shirt for a cooler version, while lowering the tie knot (or switch to a low
criss-cross knot
)