Today's style challenge was submitted via email by Elizabeth:
....Now I have a style challenge of my own, how to wear scarves and shawls when ones wardrobe consists entirely of prints with out looking like a clown? Do you match the colors or the patterns? It's easy to wear scarves with solid colors but patterns really present me with a challenge. So short of getting rid of my wardrobe I would love to see some ideas from my favorite fashion icon.
In general, I would strive for acord between the different elements of an outfit, it could be between the scarf and printed top, but there are other possibilities too, if the scarf matches another accessory for example. There are many ways to explore, and so there will be more posts on this subject to come.
Today it has been summery and warm, so I wore my new printed tunic top. For the scarf, I was looking for something which would be as much as possible in accord with the top, color and pattern wise. A 70 Tours de Clès seemed a good match.. the ornate keys and swirling cords of the corners looked in perfect harmony with the top.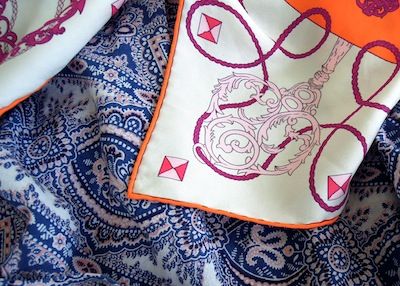 However, the scarf's middle section consists of strong colours and a graphic pattern, and therefor needed counterbalancing... my red coral jeans provided just the right impact to tie this look together.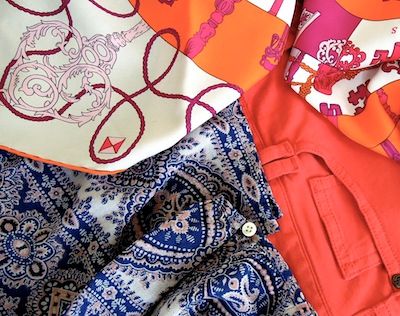 Capsule pieces: coral jeans and printed tunic
Shoes: suede sandals
Many thanks for the great challenge (and lovely compliment), dear Elizabeth!

Coming next: part two and three
All three variations: