Today's style challenge has been sent in via email by Angelique (who also submitted a wonderful and ingenious
guest post on scarf weights
a while ago)
Hello MaiTai,
...
I too, have the Circuit 24 in my collection in the same colours as you do.
I found the colours and the design very appealing, but sadly I have never worn it since the day I bought it.
I really do not know what to wear with it. Your capsule #58 was a first step, but please continue a bit more with this scarf.
I'm sure it will be very challenging, this is a difficult one!
...
Many thanks for sending the question, dear Angelique. It is true, because of it's dark brown background and black border the 06 CW does not have the appearance of a typical spring/summer collection scarf, and presents more of a challenge to create a summery look.
Starting off by applying one of my favorite principles, which is to produce a rapport between the scarf and rest of the wardrobe. This gives the scarf a purpose, and avoids the impression that a 'winter scarf' might have got mixed up in the wrong season.. Next, picking a wardrobe piece or accessory which has a summery feel, to make sure the overall look is in harmony with the season too.
In the
capsule #58
, I chose a brown belt, bag and sleeveless top (which picked up on the scarf's background color) and a white pair of jeans and turquoise bracelet (for a summery touch).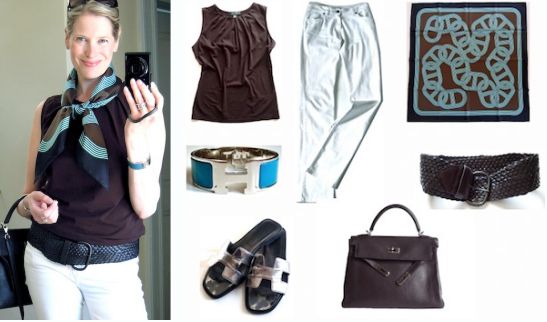 Today opting for a canvas in black, in rapport to the scarf's border color. To a certain extend, the cut of the clothes (3/4 length trousers, a short-sleeved or sleeveless top) already provides a touch of summer, and to emphasise further, I chose a waterfall necklace in aqua... not only a quintessentially summery color, but also a perfect match to the race track colour of the Circuit 24 Faubourg!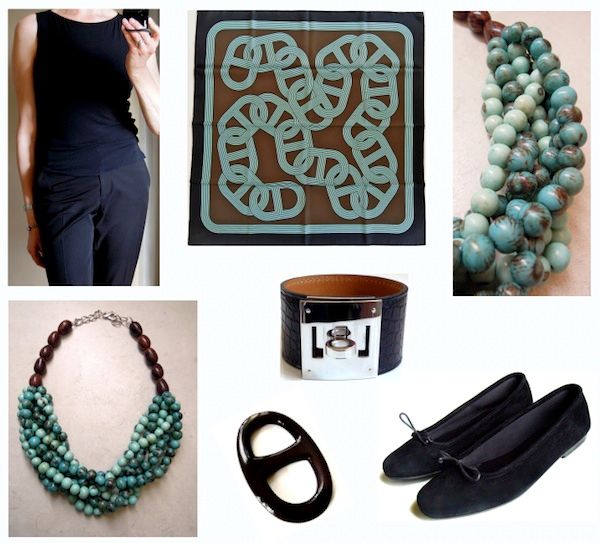 Capsule pieces: black trousers and tank top
Shoes: black ballet flats
Scarf tying method: scarf folded in the
basic bias fold,
with the ends secured in the
basic slide
Scarf ring: MaiTai Collection
horn scarf ring
in black, grande size (alternatively, you could tie the ends together in a double knot)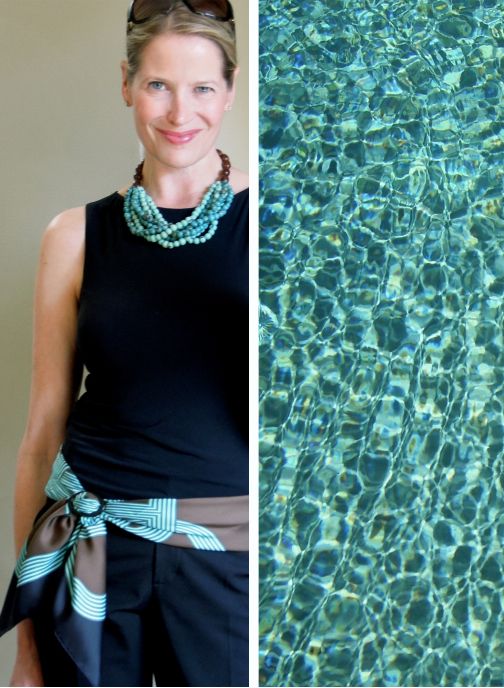 Alternativly worn simply in the basic bias fold (Angelique, this would be great with your
fabulous scarf weights
!)
Hope everyone is enjoying a wonderful weekend x
You might also like: