My favorite cashmere shawl, the Hermès 'Ex-Libris' in black/naturel, has been in a sad state for some time, it acquired pulled threads, snags, and pillings,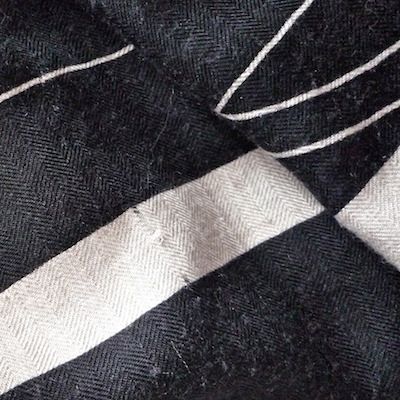 and a small, but visible hole. It was mainly because of the hole that I stopped wearing it, for fear it would become bigger and bigger, hereby damaging the scarf beyond repair.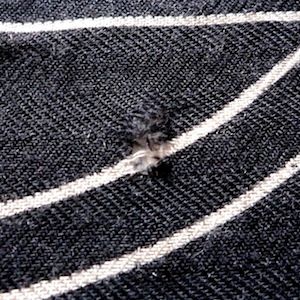 While too precious to be left in the drawer, I was also aware that a less than perfect repair job could easily ruin it forever, which left me in a dilemma.. The solution came when I found Chantal Roy, a born Parisian who is based in Italy's fashion capital Milano (she speaks fluent english, french and italian), and owner of Rammendo Invisibile, specialising in restoration of fabrics. Her unparalleled service has brought her clients from all over the world, individual customers, as well as high-end fashion houses who trust her with their after sales services (our cherished Hermès and the fabulous Loro Piana amongst many).
When looking at the
before/after shots
of the restored shawls and stoles on her site, I thought she could not have named her company in a more fitting way: Rammendo Invisibile is italian for invisible mending. Invisible mending has got a deeper meaning though, it is an ancient technique which involves tremendous skill, and consists of taking individual threads from hidden parts of the fabric (which sometimes get dyed or undyed to provide an exact match), and reweaving them one by one, stitch by stitch over the damaged area, thereby recreating the original part. The end result is like a miracle, as if the damage never existed.
When I received my cherished Ex-Libris back, I was blown away by how she had transformed it from a poor wreck to it's former glory. All pulled threads have been put back into their original position, resulting in the printed design being restored in all places.
I wish I could have taken better pictures of the miraculous transformation my Ex-Libris went through, a professional photographer could have done a much better job. Also, every little particle of dust and fluff looks like a snow-capped mountain! So please excuse the rough look on some pics, which is much exaggerated, but I preferred not to retouch any of them.

THE DAMAGE
PART ONE:
These two pulled threads were the longest, measuring 30 cm on the vertical run (marked in pink), and 25cm on the horizontal run (marked in blue)
click image to enlarge
IN DETAIL
2/3 of the vertical run, before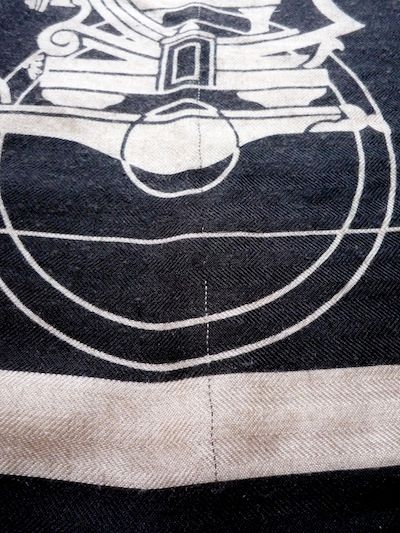 and after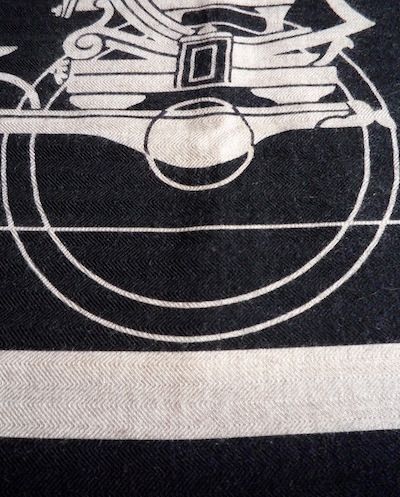 Top of the vertical run, before (includes also a stain)
and after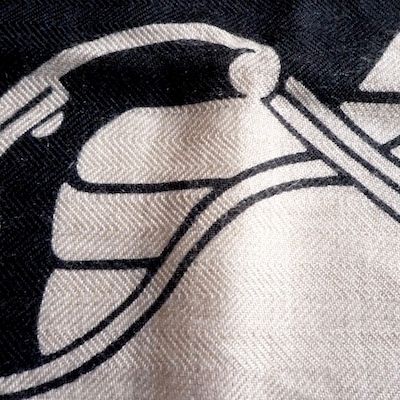 Part of the horizontal pulled thread, before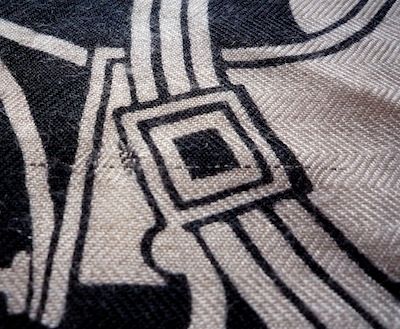 and after
horizontal pulled thread continued, before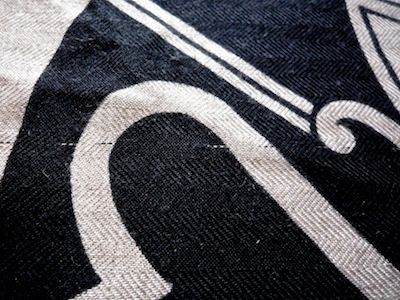 and after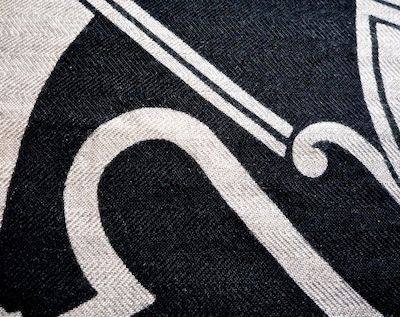 PART TWO
click image to enlarge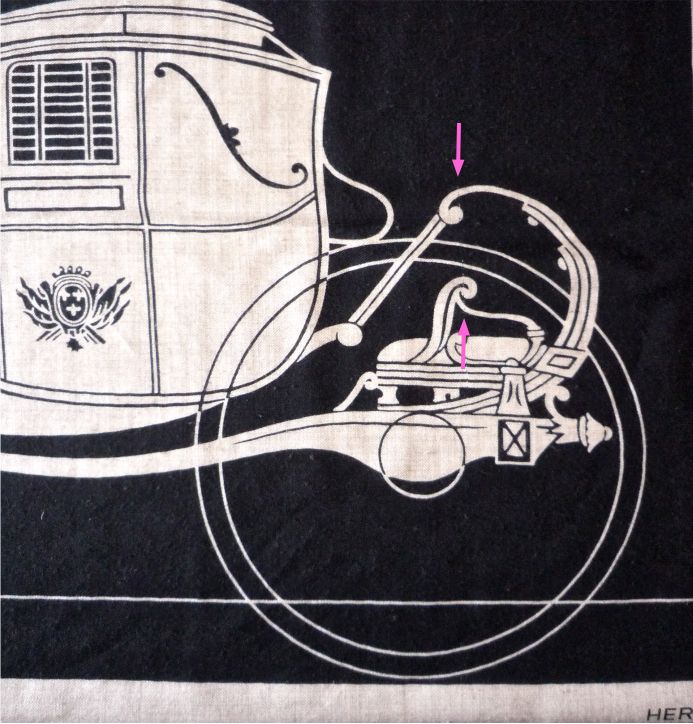 Details, before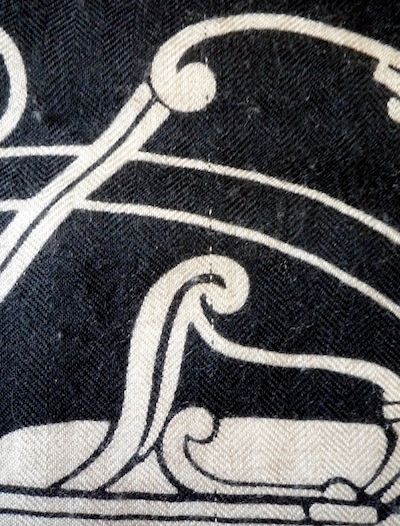 and after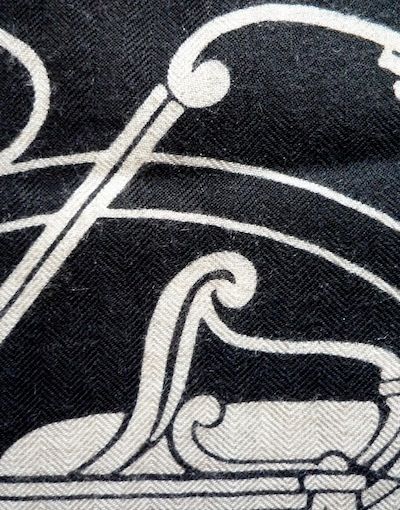 PART THREE - MISC. DAMAGE
A pull in the border, before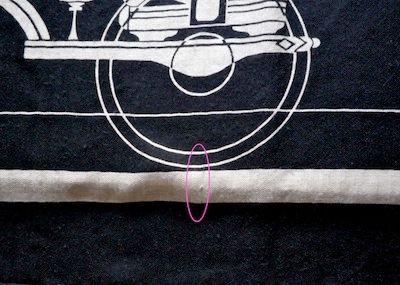 Close-up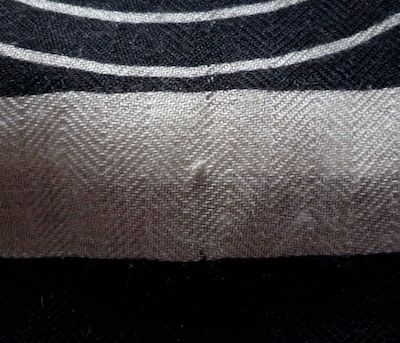 and after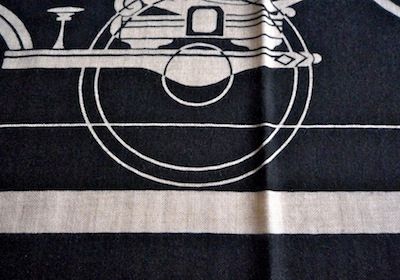 another snag, before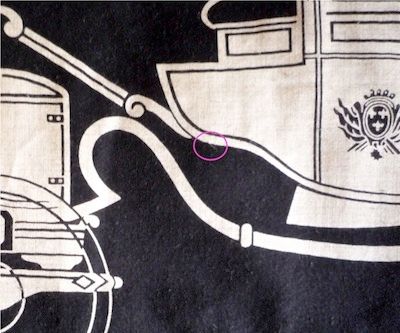 close up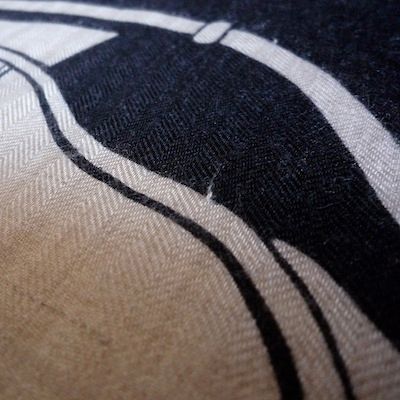 and after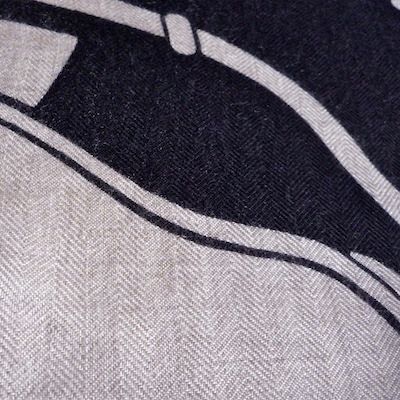 PART THREE - The hole presented a bigger problem, as the missing fabric included a part of the print, which happened to be very thin and in high contrast.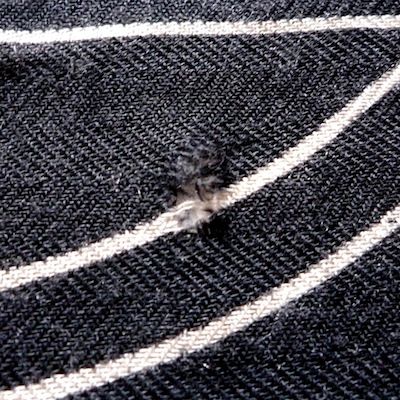 the area was too weak to be restored by reweaving alone, so additional embroidery was applied, and although difficult to photograph, the result is simply a 'miracle mending'.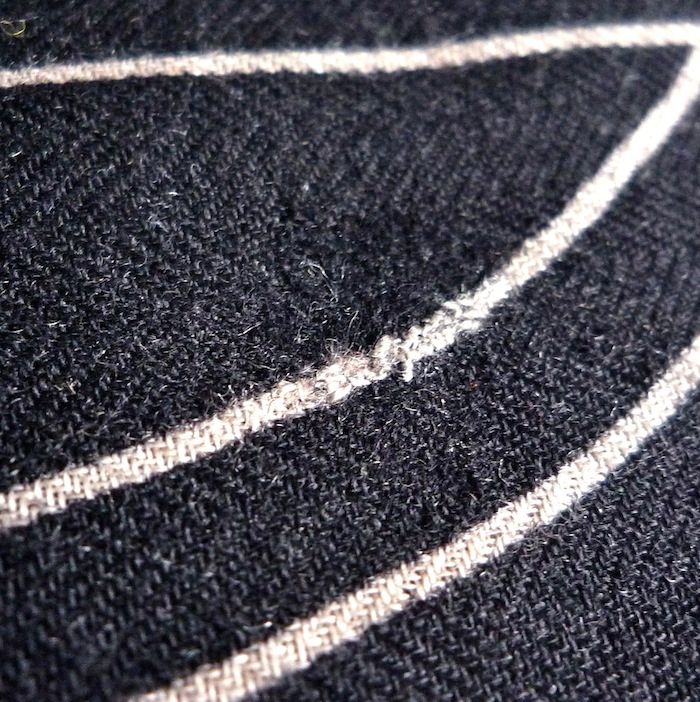 Like Phoenix out of the ashes,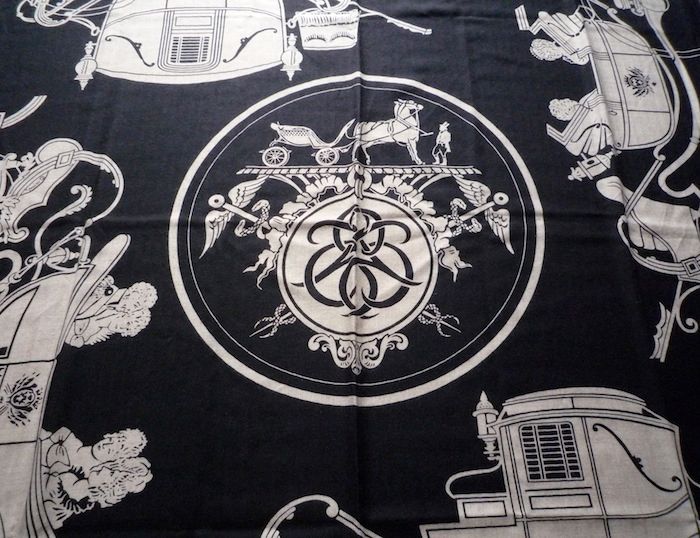 my favorite GM is ready for many happy autumn and winter outings...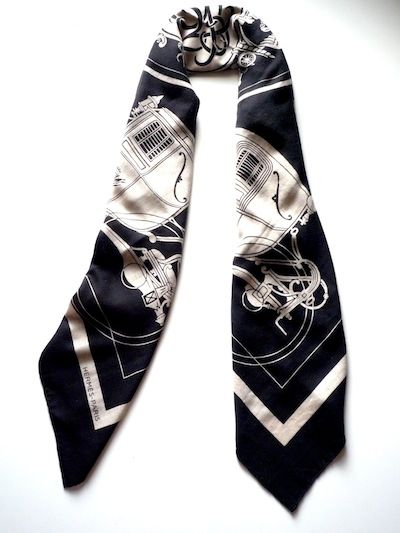 Happy faces at last!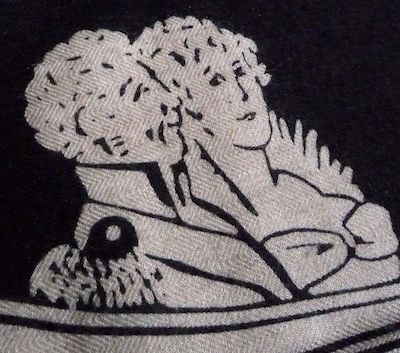 The good news does not stop here.
. during the process, Chantal Roy has been most gracious and kind in answering my many questions about cashmere shawls, especially how to treat, store and clean them. Her knowledge and experience of these subjects is exceptional (I only ever had vague ideas, and as it turns out, some of them have been plain wrong). I am most happy and grateful to announce that she agreed to share her advice and expertise here, which will result in a new series 'All about cashmere', each episode featuring another cashmere topic. Please feel welcome, dear ladies, to submit your questions in the comment box below. Between all of us, there should be no cashmere/shawl related topic left unanswered! Mille merci, dear Chantal.
CHANTAL RAMMENDO INVISIBILE

Via Cernaia 6 - 20121 - Milano - ITALY
Phone: +39 02 29001310

Mobile: +39 348 5851 365
E-mail: chantal@rammendoinvisibile.com

Web:
http://www.rammendoinvisibile.com
Wishing you all a great weekend, and many happy 'boo's!' for tomorrow ;)