Hope everyone had a great start into the New Year, and wishing you all a happy, healthy and fabulous New Year 2012!
Thank you so much for the support and friendship of the previous year, everyone's contributions, thoughts and comments are always so much appreciated, and never fail to make my day. It is also wonderfully rewarding to see the blog grow, a big thank-you to all readers, and a special grand merci to those who have joined or subscribed.
As in the
previous year
, I wore my Hart Déco stole on New Year's Eve, this time in combination with a little black dress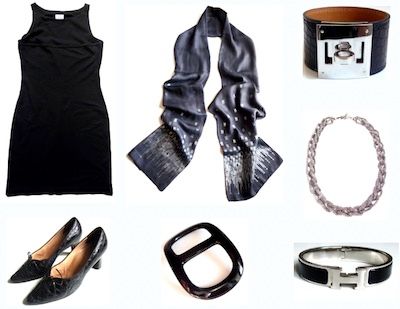 Capsule pieces: black dress
Shoes: black croc pumps
Accessories: Hermès 'Hart Déco' cashmere/silk stole, MT chain link necklace (no longer available), clic bracelet in black, Kelly Dog bracelet in black croc
Scarf tying method: Stole placed around shoulders and secured in a criss-cross knot with a MT collection shawl ring in black. Please click here for a how-to
In the morning of New Year's Eve, I've cut some twigs and branches from the garden to decorate my dining table, and added some gold berries and branches, pine cones and silver twigs I used at last week's Christmas lunch. It was a gloriously warm and sunny day, and when our friends arrived, we had the apéritif and some oysters from nearby
Bouzigues
outside, followed by a fun and happy lunch for eleven, which lasted until it got dark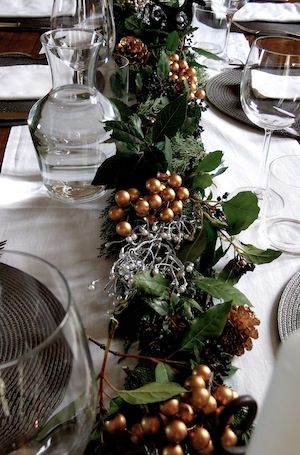 Later I changed from jeans into a dress, and settled with DH for a cosy evening by the fire, where we toasted our favorite moments of the past year with a glass of champagne. New Year's Eve was definitely one of them!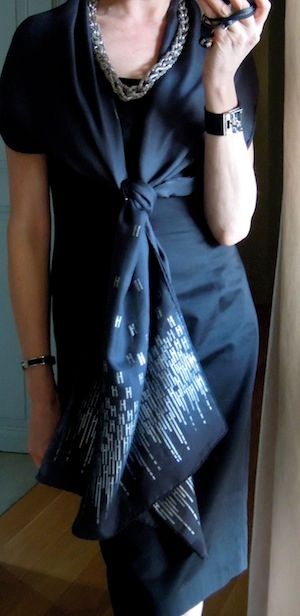 You might also like: