Last week, we visited friends who live in the beautiful Aquitaine region, in south-western France. The climate there is very different from where we are, it is cooler and greener than chez nous. Perfect conditions for hydrangeas, which I absolutely love, but can't have at home as they would get blasted in the summer heat. Aren't they fabulous?
We had scarf wearing temperatures the whole time, a wonderful extra bonus. Hooked on black&white for the moment, teaming up with a 'Les Clés' Pointu in the basic slide knot, and a moyenne scarf ring in black.
We had a happy time and kicked off the evenings with a game of croquet and an aperitif..
And since everyone tells me they love the scarf rings, I allow myself to join in. I absolutely adore the way it gives structure to a Pointu. So far, I have only one Pointu, as I always found it hard to give body to it, but love the way it looks with the
basic slide
, and without any re-tying it stayed like this all day.
Might have to go and re-investigate the AW Pointu collection...
Earlier that day, we took a trip to the Pyrénées, and had a wonderful picnic lunch by a wild stream..
My computer will have a much deserved rest coming up, as I am going to 'partir en vacances'..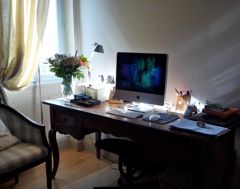 Hope you are all enjoying a wonderful summer, and looking forward to seeing you again at the end of the month! xx
You might also like: