When packing for our
recent trip to NYC
, the most important criteria was to select pieces which could be mixed and matched with ease, to achieve a maximum of different looks with a minimum of suitcase space. Limiting wardrobe colors helps, as well as leaving 'one off' pieces out. I distributed the colors (black, chocolate, khaki and beige) as evenly as possible throughout the clothing categoies (trousers, tops, cardigans, dresses, blazer), and avoided doubling up on item/color combos (ie no two black trousers, all four tank tops in different colors etc)
I knew it was going to be warm, so the focus had to be short-sleeved/sleeveless tops (personally I feel more at home with sleeveless tops, but the tanks could be replaced by t-shirts) and light trousers (I opted for 3/4 length cotton trousers). In the evenings we had dinner in air-conditioned restaurants, the only occasions I ever wore the black blazer.
Please click
here
to see the looks created from the below items
The clothes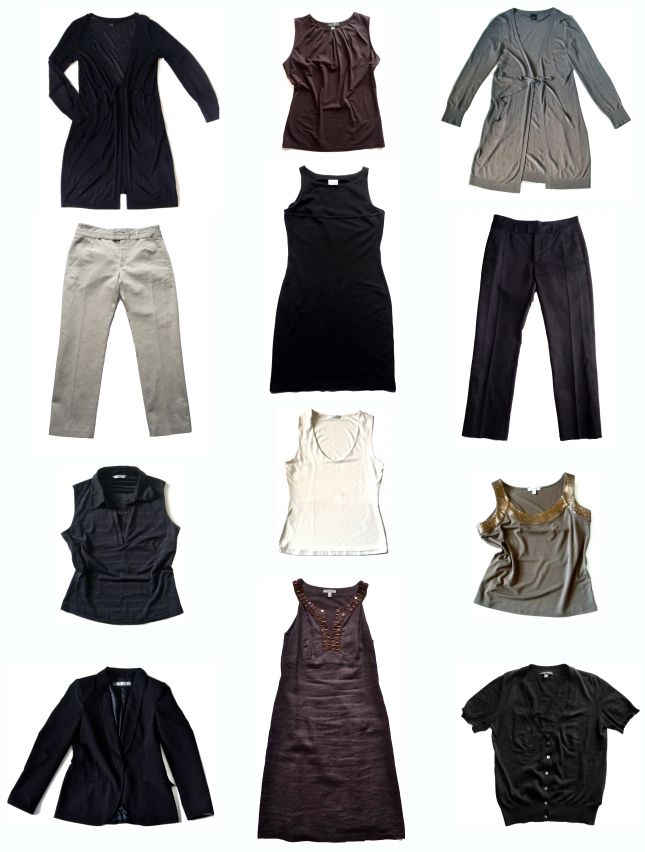 For the accessories I selected a color scheme too, starting with the dark brown Kelly, as it is my best bag in terms of safety. Adding the rest of the accessories in brown, black and warm reds and oranges, to go with the choice of bag and capsule wardrobe pieces. I knew it would be too hot to wear 90 Carrés, so I only took one, to be knotted into a top or belt. One of my favorite non H scarves (a light and breezy batic stole, given to me by a dear reader) and a mousseline GM were essential to cover up when entering airconditioned stores and restaurants, and great for sun protection. The two cashmere GMs gave an instant glamorous touch when dressing up for dinner.
The accessories
( four scarves, four necklaces, four bracelets, a couple of scarf rings, three pairs of shoes and one bag)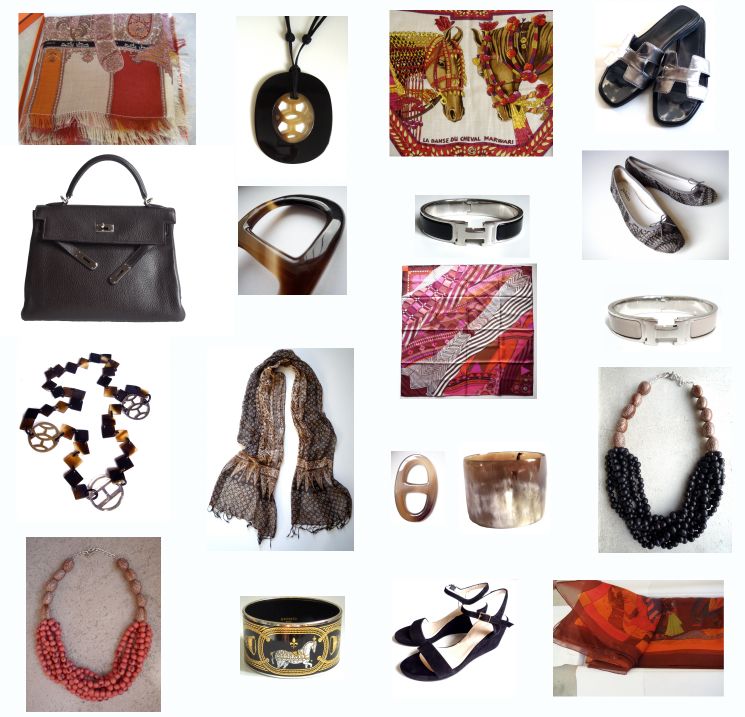 All capusule pieces ready to go into the suitcase..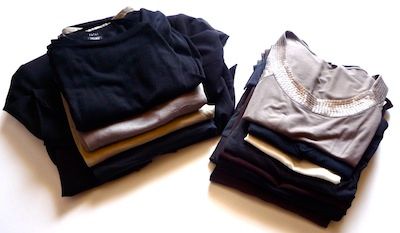 and the shoes too (scarves and jewelry always go in the on-board case)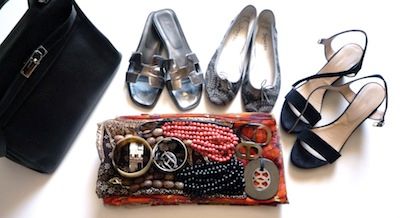 You might also like: