Dearest MaiTai,

I live and work in a casual part of Southern California. Part of my daily business is seeing customers. I love to wear my H accessories, although I feel the need to be non-intimidating by my appearance. So I strive to look business-like, although understated. I do this by slightly mis-matching my clothes and accessories. Do you have any tips and hints. Could you suggest a basic "go-to" look, for those days when I have to pull something together in a hurry?
This challenge is particularly interesting since we all live in different geographical and cultural zones, and work in environments of different degrees of formality. One person's idea of casual might be considered as formal by someone else and vice versa. So rather than showing one look only, I thought it would be interesting to start with a classic business outfit, and then taking it step-by-step down to a everyday look, exploring which details dress up, and which ones add a casual touch. Et voilà, the result is a perfect wardrobe for travelling too.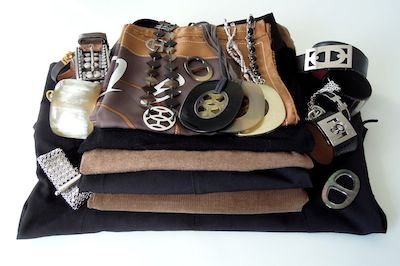 When thinking of a classic business outfit, a black or navy suit and white shirt comes immediately to mind. A first step towards a more informal look is to replace one of those elements with a more casual one. Eliminating the shirt leaves the second most formal canvas.. the little black suit. At a later time I will explore the other two possible changes (blazer and trousers), one at a time.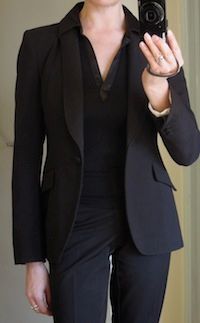 The first look is still quite formal, mainly because of the structured belt. Adding little silver bracelets, thin bangles, silk ribbons (preferably in colors which pick up on those of the scarf) or friendship bracelets are small touches that bring a casual and warm twist,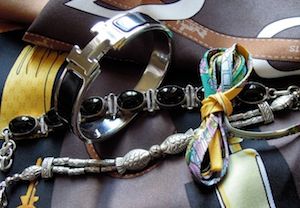 ..while knotting the scarf (Monsieur et Madame) into a charming
criss-cross bow knot
adds a feminine and playful touch.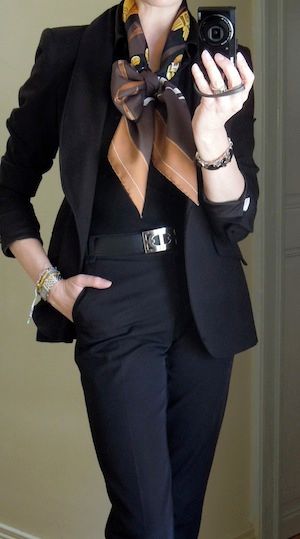 In the second look, replacing the belt with the scarf tied into a sash, and wearing a Lena horn necklace instead of a scarf. While keeping the whimsical bracelets and ribbons on the left wrist, adding a
MT Collection horn bangle
to the other.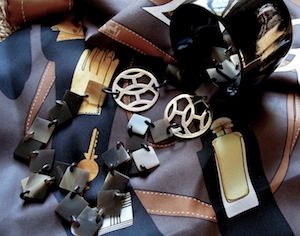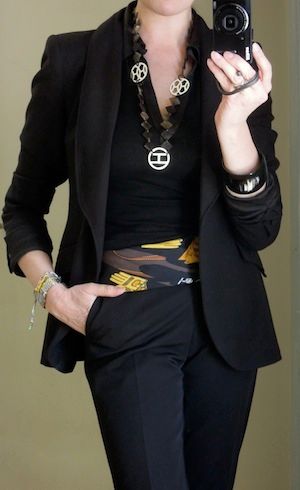 Look #3 Un-tucking the top is an easy way to steer away formality..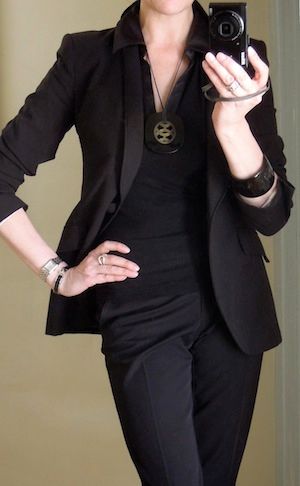 while lighter colored accessories and a change of top make the above more casual still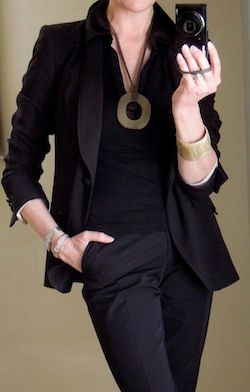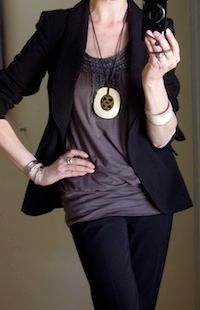 In the fourth look, going for a more elaborate knot
(waterfall)
, and therefor choosing a bracelet which picks up on the scarf's cw
Kelly double tour bracelet in ebene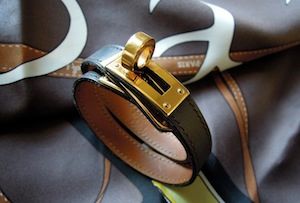 Black jeans or beige chinos would make this look more casual still.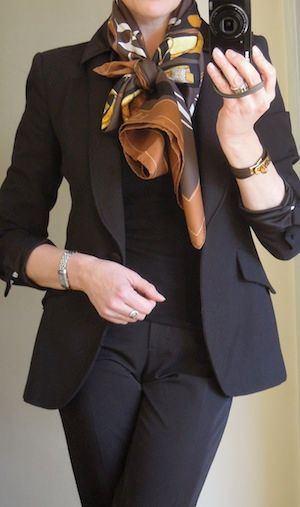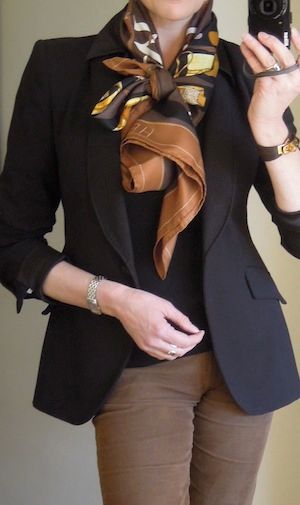 A great way to deconstruct a formal look is to add ethnic pieces (as Terese described in her challenge.. slightly mis-matching does work really well)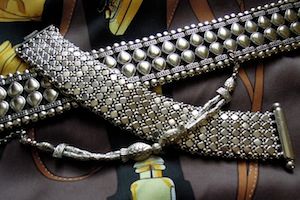 For look number five knotting the scarf into an easy going and floaty
pleated bow knot,
secured with a grande
MT Collection scarf ring
in honey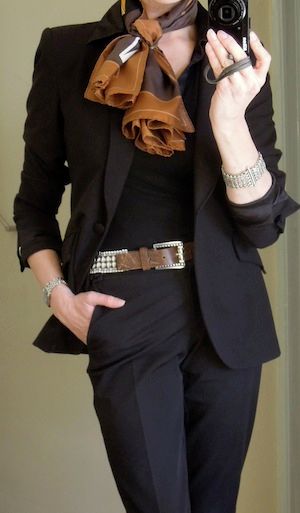 Replacing the scarf with a Farandole necklace..
bringing the scarf back, only wearing it this time in the
basic bias fold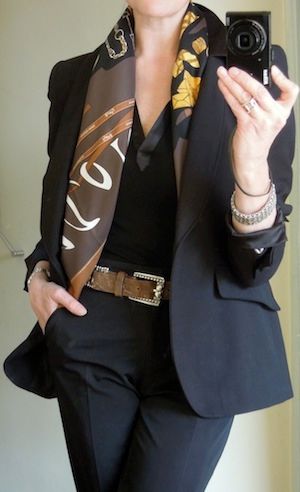 A fine knitwear top in a lighter color takes the look instantly to informal, as do the ethnic inspired horn pendants (Lift in black and gold).
Left with a clic H enamel bracelet in black, right with a black croc Kelly Dog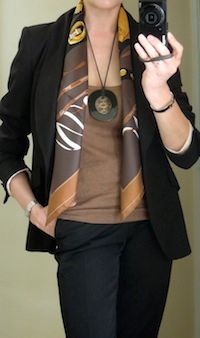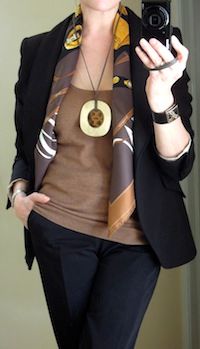 A t-shirt dresses down in an instant too, here in look #6 wearing the scarf as a belt (ends secured in the
basic slide
with a
MT Collection
grande scarf ring in
dark MoP
)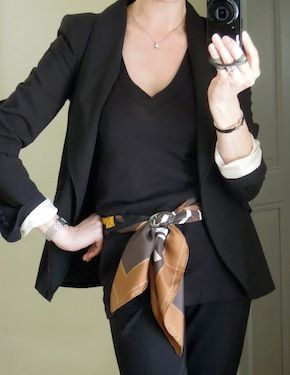 Some general thoughts on how to dress up (emphasising formality) or down (going towards casual)
Suit: choose whichever color suits you best. A navy suit would have a similar effect to the above. To dress down, go for lighter neutrals (beige, khaki), or choose two different colours for the top and bottom.
Shirt: To dress up, change the jersey top for a crisp cotton shirt or silk blouse. To dress down, choose a t-shirt, tank top, cotton blouse or fine sweater. Wearing a layered look under the blazer is more casual still. Black, creams, and whites are dressy, whereas the more color and pattern your top has, the more informal the look.
Shoes: Dress up with heels, brogues, ankle boots or patent leather flats. Dress down with ballet flats or loafers in smooth or suede leather, sneakers (canvas or leather) or boots with an edge (for example cowboy inspired).
Jewellery: Enamels and leather bracelets always blend beautifully in. To dress up, add pearls or gold/silver pieces. To dress down, choose whimsical or ethnic pieces.
Scarves: To make comparisons easier, I used the same scarf (Monsieur et Madame) in all of the above examples. Using different scarves would have a huge impact on the look. To dress up, go for a classic design in classic colors. Tone in tone scarves (as above) blend in, especially in more elaborate knots. To make a statement, choose bright and bold silks. The choices are endless (format, material, design and colors), and so much depends on the weather, occasion and mood of the day. And the scarf knot, of course!
Scarf knots: to dress down, go for fluid drapes or bows. To dress up, choose a formal
half Ascot
or tie knot. Other knots can be worn either way, a
basic slide
can be knotted neat, accurately and tidy, or be given a relaxed and drapey look.
Many thanks for the challenge, dear Terese. I truly enjoyed exploring the nuances of this first 'deconstruction', and hope some of the ideas will answer your question. My personal basic 'go-to' look would probably be a pair of jeans (very dark 'brut' blue or black) or other casual trousers, combined with a blazer, which I'd then play up or down with different style tops, shoes and accessories. There are so many further variations and I look forward to following up in the future!
Tomorrow, we'll be heading
en familie
towards the Alps for our annual skiing holiday. Have a great weekend everyone, and see you back in mid March x